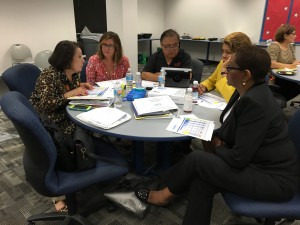 Campus principals face unique challenges, as they balance running a school while making sure the needs of their teachers and students are being met.
That's why HISD has all new principals attending the annual New Leaders Institute (NLI), a 10-day intensive training event that gives them many of the tools and resources they'll need to hit the ground running when the 2016-2017 school year begins. The NLI started July 6 and wraps up on Thursday, July 21. 
Shannon Verrett, senior manager in Leadership Development, said the NLI is designed to close the knowledge gap for new principals as they prepare to take on the role of campus leader. But just as important, Verrett said, is the chance to develop relationships with other new principals and contacts within the district who can help troubleshoot questions once the school year begins.
"Ultimately, this gives them the chance to wade through the information and lift the jewels out," Verrett said. "(NLI) increases their knowledge and allows them to create a network and family to know they're not out there alone. That decreases the chance for burnout in the first year, because you cannot do this job in isolation."
A total of 18 new principals, along with 10 principal mentors, attended NLI, and attendees gave the event a resounding thumbs-up.
"It's a great experience," said Everett Hare, principal at Bastian Elementary. "I feel way more prepared. The networking is so beneficial. We all bring something different to the table, and we can bounce ideas off of each other. We've already become an internal family."
Julie Dickinson, Kolter Elementary's new principal, said this professional development is the best she has experienced in 10 years at HISD.
"Absolutely a 10," she responded when asked to rate her level of preparedness from 1 to 10. "I guess we still have a little anxiety because we're taking on a huge job, managing staff and students. But now I'm feeling a lot less uncertain. Everything presented has been something I can take back to my campus."