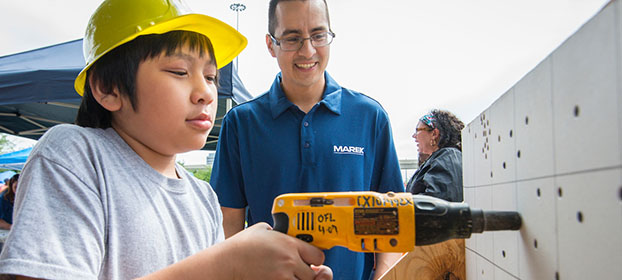 This week, two events will help HISD students of all ages explore careers in high-demand, high-growth industries.
First up is Family Career Night from 6 to 8 p.m. on Wednesday, April 19, at East Early College (220 N. Milby St., Houston, 77003).
The event, sponsored by District VIII Trustee Diana Davila, is for parents and students in grades K-12 in the Northeast and East part of the city and will provide the opportunity to learn more about different careers in the Greater Houston area, HISD programs and resources, and how to connect with high education and industry representatives. There also will be an opportunity to win a scholarship. 
Dinner will be provided, as well as free giveaways throughout the event. In some cases, transportation will be available. Please check with your school for details.
Saturday, April 22 will mark the fifth annual "When I Grow Up Expo," which will be held from 10 a.m. to 2 p.m. at the Hattie Mae White Educational Support Center (4400 W. 18th Street, 77092).
Students will have the opportunity to talk with local employers about future careers, experience the Mobile Oilfield Learning Unit, and compete in various student competitions in subjects such as cosmetology, movie making, construction, and culinary skills. Food trucks will be on hand, and participants will be able to enjoy student performances by HISD fine arts programs.
Participating companies and attendees include:
M.D. Anderson (will also host a blood drive)
Houston Fire Department
CenterPoint Energy
McDonald's
Exxon Mobil
Port of Houston
Kroger
City of Houston (will be onsite hiring for Mayor's Hire Houston Youth initiative)
ACE Mentors Competition
Houston Community College
Students also will enjoy hands-on career awareness and exploration activities, including the STEM Museum on Wheels, Home Depot workshops, the Career Ready Wagon, a gyroscope, and more.
Last year, about 6,000 students, parents, and community members attended the annual expo, which featured exhibitors such as Exxon Mobil and CenterPoint Energy, and included family-friendly activities and food vendors.
For more information about either event, visit the Career Readiness webpage or contact HISD College and Career Readiness at 713-556-6981.