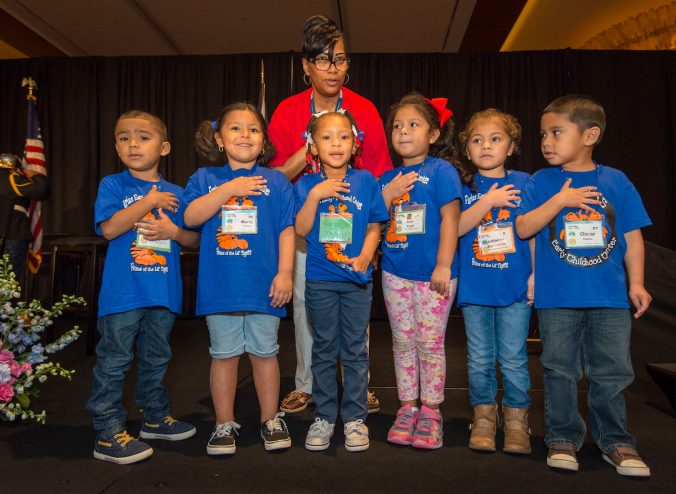 The week of April 24-28 is the Week of the Young Child, an annual celebration sponsored by the National Association for the Education of Young Children to put a public spotlight on the needs of young children and address those needs through early childhood programs and services.
Studies have shown children who receive high-quality early education learn fundamental literacy and mathematical skills that transfer to later grades, earn higher test scores, and are more likely to attend a four-year college. 
HISD is dedicated to work in partnership with multiple organizations, nonprofits, governmental agencies, and others to connect students and families with the supports they need – a commitment to a community schools approach for student success. The district is coordinating direct services for families focused on early childhood education, healthcare, literacy, after-school care, character development, arts, and music. HISD has a variety of programs and services are here to help families respond to the needs of their youngest learners:
Home Instruction for Parents of Preschool Youngsters (HIPPY)
The HIPPY program is intended for 3-, 4-, and 5-year-old children and their parents to begin their education at home before kindergarten or a pre-K program. Individual HIPPY lessons are delivered by trained HIPPY specialists who work with parents to cover the 30-week curriculum in English or Spanish. Learn more here.
Family Friendly Schools program
HISD believes a strong parent-school bond can impact the capacity for student learning. That's why the Family Friendly School program was created to assist schools in building and improving relationships with their families and communities. Learn more here.
Pre-kindergarten and Early Childhood Education Centers
HISD has 155 prekindergarten campuses, as well as nine Early Childhood Centers (ECC) which cater specifically to our youngest learners. Full-day pre-K is offered, and instruction is free to those who meet the requirements. Learn more about pre-K options here.
For more information on early childhood education in HISD, please call the Early Childhood Department at 713-556-6823 or visit the department's website here.
The NAEYC encourages different themed activities each day of the Week of the Young Child:
Music Monday: Sing, dance, celebrate and learn
Tasty Tuesday: Healthy eating and fitness at home and school
Work Together Wednesday: Work together, build together, learn together
Artsy Thursday: Think, problem solve and create
Family Friday: Share family stories
Share what your campus is doing this week to celebrate the Week of the Young Child, using the hashtag #WOYC17 on Twitter.