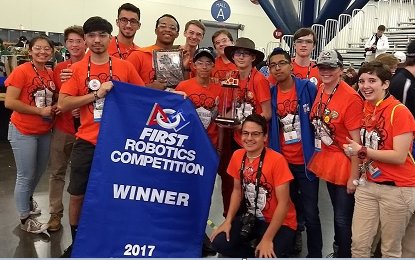 Energy Institute High School's Energy HEROs team on Saturday placed second in the world at the Houston-hosted FIRST Robotics World competition.
The HEROs were part of an alliance with three other teams: alliance captain, The Robonauts, and alliance partners Citrus Circuits and Columbus Space Program.
The competition is part of the larger FIRST Championship Presented by Qualcomm Inc., and featured more 400 other teams from 30 different countries. The competition was held at George R. Brown Convention Center, Minute Maid Park, and Discovery Green.
"Given that our robotics team is only two years old, I am ecstatic that Energy and their alliance teams outperformed over 15,000 robotics students," Principal Lori Lambropoulos said. "To place second in the world is like making it to the Super Bowl for these kids."
Under strict rules, limited resources, and a six-week time limit, teams of students are challenged to raise funds, design a brand, hone teamwork skills, and build and program robots to play a difficult field game against competitors.
The contest is designed to closely replicate a real-world engineering experience. Volunteer professional mentors also lend their time and talents to guide each team.