Austin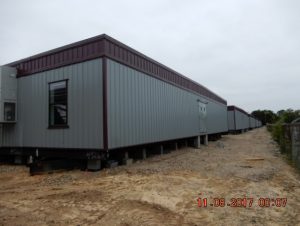 High School students and staff will relocate in January to a temporary campus in preparation for the start of construction on their new building.
Construction of the Temporary Learning Center — dubbed by school officials as the "TLC" and made up of temporary buildings — is nearing completion, with plans for students and staff to report to that location on Jan. 8, which is the first day of the spring semester.
The temporary campus was built to ensure student and staff safety during construction. It is located along South Lockwood Drive, directly behind the existing school building.
"It's becoming a reality. The move is starting to set in," Austin High School Principal Steve Guerrero said during a recent Project Advisory Team meeting. "It's still a move, but we're working to make sure the transition will be as smooth as possible."
Located in Houston's East End, the 80-year-old comprehensive high school is being rebuilt as part of the Houston Independent School District's voter-approved 2012 Bond Program. Plans for the $79.6 million project call for a new facility that preserves the original building's architecturally significant building structure and can accommodate up to 2,000 students.
Students and staff will remain at the temporary campus throughout the construction process, which is expected to conclude at the end of 2019. While at the temporary campus, students will have access to the same programming, activities, clubs, and sports that currently are offered in the original building.
A bond community meeting has been scheduled for 6:30 p.m. on Tuesday, Dec. 12, in the Austin High School auditorium. During this meeting, community members will learn more about the temporary campus, as well as the construction schedule and timeline for the permanent building.
Austin is among 40 schools, including 29 high schools, being renovated or rebuilt across the district as part of the 2012 Bond Program. Construction is currently underway at roughly two dozen campuses, and almost 50 percent of all bond projects are now complete and open to students. Once all work is done, HISD will boast of one of the most modern portfolios of urban high schools in the country.
Follow @Build_HISD on Twitter for the latest construction updates on the 2012 Bond Program and school construction across the district.