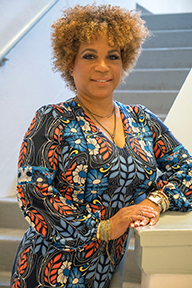 To the naked eye, a chair may seem ordinary. But for Michelle Black, it's more than just a piece of furniture — it's a tool that can foster student learning.
As the HISD Furniture, Fixtures, & Equipment Manager for the 2012 Bond Program, Black is responsible for furnishing all 40 bond schools — including 29 high schools — with comfortable, modern, and flexible furniture.
Black oversees each project — often managing more than five at a time – as they near completion.
"I try to come to work knowing what I need to do," Black said, mentioning the importance of paying attention to both details and deadlines. "It is all about managing and knowing what the task is for that day."
Whether she's in the office or meeting with school principals at their respective campuses, Black tries to remain level-headed during her busiest days.
"I try not to get lost in the chaos. I know at the end of the day, I'm doing something good," Black said. "It's not just the desk and chairs we put in. It's bigger than that. It's about the impact that we can have on the kids."
Although Black has only been employed by the district for a little more than a year, the mother of four current and former HISD students has been affiliated with the district for over two decades.
Black has been a member of parent-teacher organizations, principal panels, and special education and calendar committees — all of which allowed her to experience different facets of the district.
"I take it very seriously. I take it to heart, and I enjoy it," Black said. "I know the parent side, volunteer side, and the personal side. It is very important for a parent to remain active with their children and be involved in their schools because parents can also be a voice."
Known amongst her peers for her outstanding work ethic, Black remains humble and keeps her focus on just one thing —creating an environment that allows students to learn and thrive.
"I like that I am a part of something that will exist for generations to come," Black said. "We are all a team and we are making history for HISD."