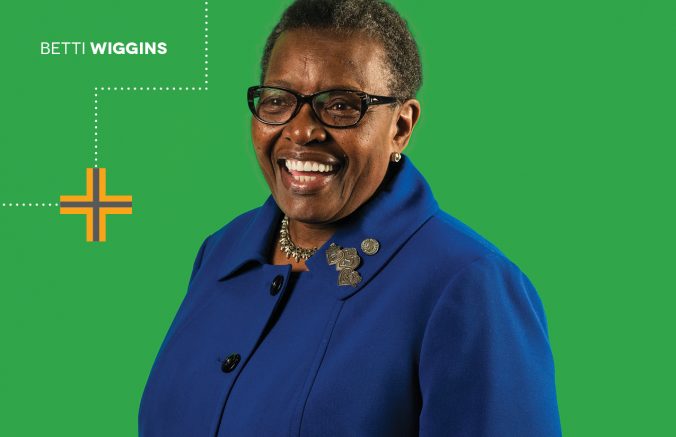 Betti Wiggins, HISD's officer of Nutrition Services, is no stranger to accolades. She was previously featured in a PBS special and her work was also recognized by General Mills, who gave her a Wheaties box emblazoned with her photograph.
Most recently, she was named one of TIME Magazine's 50 Most Influential People in Health Care for 2018.
This year was the first time the magazine compiled the Health Care 50 list, asking "a team of health editors and reporters to nominate people who significantly changed the state of U.S. health care" and evaluating their work "on key factors, including originality, impact, and quality," according to TIME Magazine's website.
The list was divided into four separate categories: public health, treatments, cost, and technology. Wiggins was recognized for her impact on the public health sector, specifically her child nutrition efforts in Detroit and here at HISD.
To celebrate this achievement, her team organized a surprise party for her on Monday in the viewing gallery of Hexser T. Holliday Food Services Support Center.
When Wiggins initially entered the room, she was speechless for a few moments. After she had a chance to collect herself, she expressed her gratitude toward her colleagues.
"You don't do this by yourself," Wiggins said. "You have to learn how to collaborate. I just want to be a brick in the foundation, not necessarily a weight-bearing wall that if you take me out, the whole thing collapses."
At the event, Chief Operating Officer Brian Busby lauded Wiggins for her significant accomplishments in her short time with the district.
"You look at what she brings to the table and the way she does it," Busby said. "I've never seen anything like that before. Her energy and her heart are infectious."
Wiggins is known to some as a "rebel lunch lady." She said she takes no issue with this terminology if it helps her to get her point across but noted it is not completely accurate.
"I'm not so rebellious as I am resolved," Wiggins said. "It's not rebellion. I'm not kicking over tables or anything."
Busby reflected on Wiggin's future endeavors at HISD.
"You look at [Wiggin's] programs and initiatives that are yet to be fully implemented and launched," Busby said. "The best is yet to come."