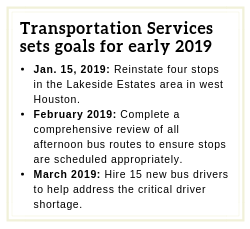 Transportation Services is conducting a comprehensive review of all afternoon bus routes to ensure all stops are scheduled appropriately and all routes can be completed safely in the time allotted.
This analysis comes on the heels of a similar review of all morning bus routes, which is wrapping up. Department staff are expected to complete the review and make any necessary route changes by February 2019.
"I want parents to know we hear them," Interim General Manager John Wilcots IV said, noting that they focused first on morning routes to ensure students were getting to school on time. "They want us to get these afternoon routes reviewed and updated, and that's what we're going to do."
As part of the review, stop times will be updated to accurately reflect the time needed to execute each route. This will help the department provide parents with accurate pick-up and drop-off times.
Wilcots said he'd seen some routes with stops that simply were not feasible. He pointed to routes that were scheduled to pick students up from school at 2:50 p.m. and then make their first stop by 2:55 p.m.
The goal, he said, is to ensure all scheduled stops are realistic and account for traffic and travel distance. But, Wilcots noted, even with the review and accompanying adjustments, unexpected delays — from unusually heavy traffic, road construction, or vehicle accidents — can still happen.
"Our students are our customers. They are our most important resource," he said. "We're doing everything we can to ensure we're providing the best possible service to them."
Additionally, the department is re-instating four routes in the Lakeside Estates area in west Houston. The new stops, which will take effect Jan. 15, will reduce the distance students must walk to get to their stop, decrease the number of students at each stop, and alleviate traffic in the area.
Wilcots said he also is placing a renewed emphasis on recruiting bus drivers and has set a goal to hire 15 new drivers by March 2019. With 801 drivers and 878 routes, the department continues to face a critical shortage of drivers despite increased recruitment efforts, including multiple job fairs.