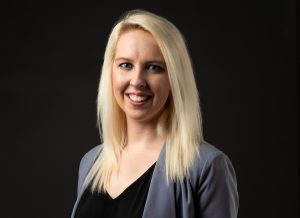 HISD Nutrition Services Food Literacy Manager Julia Jarrell has been selected as one of the 2019 Texas Academy of Nutrition and Dietetics Recognized Young Dietitians of the Year.

Jarrell was nominated and selected for her progressive work in teaching HISD students how to lead healthy and productive lives through good nutrition.

"I love the opportunity to promote health within the Houston community" Jarrell said. "To be recognized and honored for doing things I am deeply proud of makes me feel elated and privileged to be part of such a wonderful profession."
The Texas Academy of Nutrition and Dietetics is a professional organization of over 4,000 food and nutrition professionals. Recipients of the Young Dietitians of the Year award are 35 years or younger and have demonstrated leadership qualities and performance in legislation, research, public relations, education, community outreach, and management.

Jarrell initially joined HISD's Nutrition Services as a nutrition education dietitian. In that role, she created curriculum aimed at encouraging critical thinking, particularly regarding messages about food, which she based on the tenets of the United States Department of Agriculture MyPlate guidelines, physical activity, variety and moderation.

One of the lessons Jarrell created was "Farm to MyPlate," which emphasized food systems. She coordinated with HISD chefs, master gardeners, and local farmers to bring an entire farm-to-plate experience to schools. The lesson covered the complete process from where food comes from, to how it benefits their bodies, to sampling the featured food.

With the recent creation of Nutrition Services' Food Literacy and Inclusion program, Jarrell has taken on a new role as food literacy manager and is now primarily focused on expanding their nutrition-focused school garden programs.

Jarrell's nutrition mission doesn't stop in the schools. She is also making an impact on health and nutrition legislation. She was recently appointed as the Legislative Committee Chair for the Houston Association for School Nutrition for a second year.

Through her efforts with that organization, she has made over 25 legislative visits and been involved in planning and implementing four legislative events in Houston.