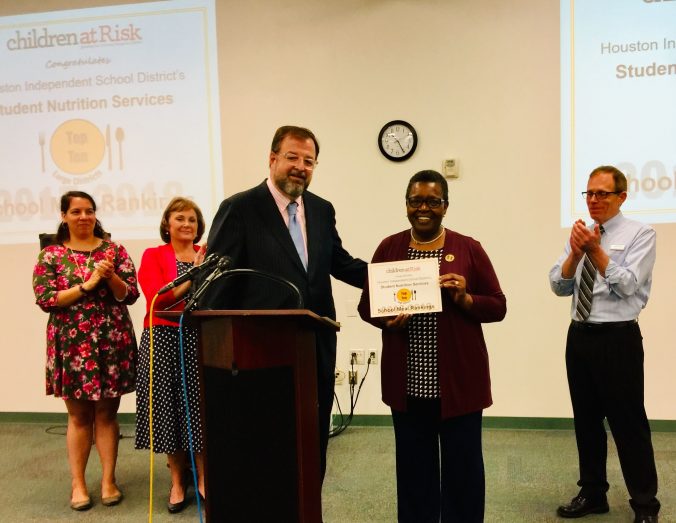 A child research and advocacy organization has recognized Nutrition Services as a top five food delivery district in the state of Texas.

Children at Risk ranked HISD fourth among large school districts in the state based on its record of providing daily meals to children in need, especially its school breakfast program, which allows schools to serve students breakfast in their classroom before starting the school day.

The organization measured the participation rate of school nutrition programs across districts based on data provided by the Texas Department of Agriculture and the Texas Education Agency.

With 60 percent of low-income eating students school lunch and 52 percent eating breakfast, HISD was ranked just behind San Antonio, Dallas, and El Paso ISD.
"These programs are here to benefit children in need," Nutrition Services Officer Betti Wiggins said, as she accepted a certificate on behalf of the department Thursday at the Hexser T. Holliday Food Services Support Facility.
"As leaders in childhood nutrition, we would be remiss if we didn't take every step, make every effort, uncover every opportunity we can to diminish food insecurity and hunger."
Children at Risk is holding press conferences at locations throughout Texas to recognize the districts receiving honors.
"We want to highlight and learn from these top districts that are doing the best job of feeding low-income students," Children at Risk President and Chief Executive Officer Bob Sanborn said in a statement. "This is also an opportunity to raise awareness about best practices that will help all Texas school districts ensure the health and wellbeing of our students in need is a top priority."
New Caney ISD Child Nutrition Director Debbie Needham also was present to accept her district's certificate for its top 10 ranking in middle income districts.