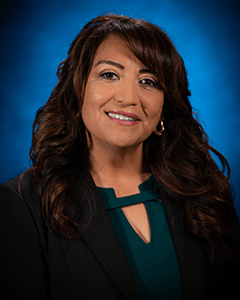 Yolanda Rodríguez, HISD's north area superintendent, has been named interim chief academic officer of the Houston Independent School District.
Rodríguez assumes her new role immediately, reporting to Interim Superintendent Grenita Lathan.
"Ms. Rodríguez has 25 years of experience with Team HISD and has a long history of turning around underperforming schools right here in our district," Lathan said. "I am proud to have her at the helm guiding academics and instruction in HISD, and I know our schools will see continued success under her leadership."
Before assuming her role as north area superintendent, Rodríguez served two years as a school support officer, most recently in the Northeast Area. She has been instrumental in providing the support, guidance, and coaching necessary to exit 18 campuses out of "Improvement Required" status over the last four years.
"I am honored to have the opportunity to impart my experience and guide my team to increase academic excellence across HISD and support Dr. Lathan in her Strategic Vision," Rodríguez said. "It's a huge responsibility and one I take seriously to ensure every child has the opportunity to flourish."
Rodríguez started her teaching career at Roosevelt Elementary School, where she worked as an instructional coordinator and assistant principal before moving to De Zavala Elementary to become the principal in 2010. Under her leadership, De Zavala earned exemplary status from the TEA in 2011. She holds both a bachelor's in Interdisciplinary Studies and a master's in Educational Leadership from the University of Houston.
With Rodríguez's new assignment, the following leadership changes also take effect immediately:
Staci Taylor, Officer of Student Assessment, will transition to her role as north area superintendent. Taylor is a 19-year Team HISD veteran and has worked as a teacher, instructional coordinator, school improvement facilitator, principal, adjunct professor and assistant superintendent. She has taken an unprecedented approach to managing and designing the district's assessment resources to ensure school leaders, teachers, students, and parents have access to tools and services that positively impact student achievement, support special populations, and promote college and career readiness.
James Metoyer, Director of Student Assessment, will fill the position of Officer of Student Assessment. Metoyer is a 31-year veteran of Team HISD, having served as elementary teacher, math specialist, principal, North regional manager, and School Office director. Most recently, Metoyer served as Director for the very successful Data Driven Instruction Specialist (DDIS) Program under Student Assessment.