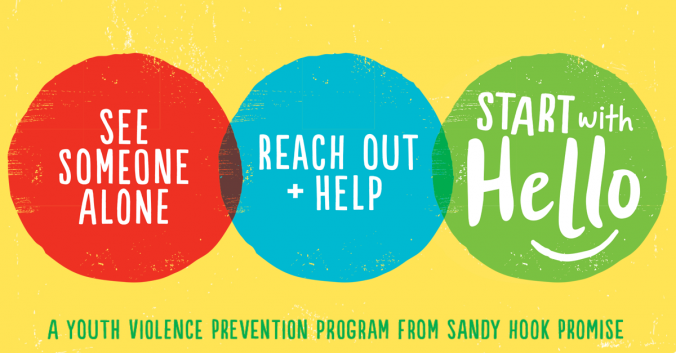 Throughout October, HISD is rallying behind National Bullying Prevention Month and encouraging participation in a campaign to keep all youth safe from bullying.
Every day, thousands of students experience some form of bullying either at school, at home, or online through social media and texts. This is a great time for our schools, staff and students to raise awareness about bullying and the role we all play in making a difference.
Schools looking for ways to participate this month can utilize a few simple and inexpensive projects and activities to bring awareness to the effects of bullying. Age-appropriate activities can be found online here.
HISD will also recognize Bully Prevention Week from October 14-18, in conjunction with the Sandy Hook Promise "Start with Hello" campaign, to raise awareness and bring attention to a growing epidemic of social isolation. 
HISD campuses will participate in Bully Prevention Week by observing the following:
Monday, Oct. 14: Wear Orange & Say Hey Day
Students and staff are encouraged to wear orange to unite against bullying. Students and staff will wear name tags throughout the day and address each other with "Hello (name of person)."
Tuesday, Oct. 15: Random Acts of Kindness Day
Students and staff are encouraged to start a random act of kindness movement by doing kind acts "just because."
Wednesday, Oct 16: Make Hello Global Day
Students and staff are encouraged to say hello and/or teach someone to say hello in a different language.
Thursday, Oct. 17: Positivity Selfie Wall Day
Campuses will display a school-wide positivity, kindness, or smile wall where students can post positive messages, compliments, and notes of encouragement.
Friday, Oct. 18: No One Eats Alone Day
During lunch, students across the district will use "ice breaker" cards to start conversations at the lunch table. Students will be encouraged to invite other students to sit with them and participate to ensure no one eats alone.
According to the Center for Disease Control, students who experience bullying are at increased risk for poor school adjustment, sleep difficulties, anxiety, and depression. And cyberbullying is at an all-time high, with 19.6% of high school students in the U.S. reporting to have been bullied online.
The Houston Independent School District takes allegations of bullying, in all its forms, very seriously. Under its Board policy, the district prohibits any kind of bullying and/or harassment on the basis of age, color, body-type, handicap or disability, ancestry, national origin, race, religion, sex, sexual orientation, gender identity and/or gender expression. The district addresses bullying, including cyber-bullying, in its Code of Student Conduct.