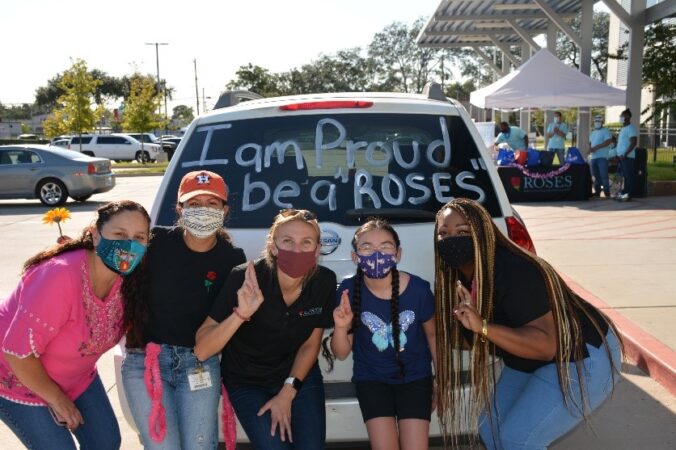 January is National Mentoring Month, and HISD's Ascending to Men (ATM) Project and Resilient Outstanding Sisters Exemplifying Success (ROSES) mentoring programs are celebrating by highlighting mentors and mentoring stories on their social media platforms.
National Mentoring Month is a celebration of the positive impact mentors have in their mentees' lives. It is also a time where interest in mentorship and making a difference in the community is at its highest, with the excitement of a fresh new year and the goals and resolutions to impact others. HISD is encouraging the public to get involved and become a mentor.
"We want to take a moment to express our gratitude to each of our mentors for their incredible support and guidance to our students," said Candice Castillo, Executive Director of Equity and Outreach. "You are making an impact that will go beyond the mentoring interactions you are having today, and your time investment is helping shape the outlook on life many of these young men and women have."
Research shows that mentors play a powerful role in providing young people with the tools to make responsible choices. Students with mentors are more likely to attend and engage in school, participate regularly in sports or extracurricular activities, volunteer in their communities, hold leadership positions in extracurricular activities, and reduce or avoid risky behavior like substance abuser and others.
The same research shows that one in three young people in our country will grow up without a mentor. Currently, with a worldwide pandemic surrounding us, the need for mentors is more vital than ever, as students adjust to non-traditional learning and social environments.
Under its Equity and Outreach umbrella, HISD has implemented its mentoring programs to empower young men and women – especially from historically underserved communities with the knowledge, confidence, and necessary skills to embark on their post-secondary journey. Students in these programs have access to mentoring opportunities that connect them with caring adults that serve as advocates and provide educational, social, and professional guidance, increasing our students' exposure to impactful experiences.
To learn more about mentoring opportunities with ATM and ROSES, visit www.houstonisd.org/atmp and www.houstonisd.org/ROSES or direct any related questions, contact us at equityandoutreach@HoustonISD.org or call 713-556-8902.