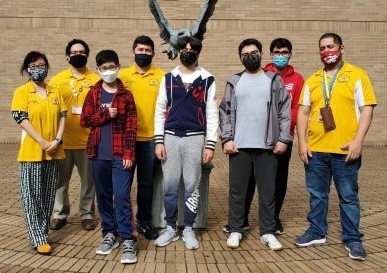 For the fourth consecutive year, the Wisdom High School math team is headed to state UIL competition.
The school's UIL Calculator Applications team won the regional championship on Saturday at Fort Bend ISD's Willowridge High School. With a team score of 581 points, they defeated runner-up Waller ISD by 22 points to advance to the state finals, which will be held on May 1.

The team includes sophomore Paul Oh, sophomore Bruno Santana, senior Wilmer Salgado and freshman Emir Genc. They are coached by Eridani Alcantar, Saul Cantu and JooHee Cho – under the direction of Principal Michelle Wagner.
"We love when our students have a chance to compete and display the knowledge and skill that they are learning here at Wisdom," Wagner said. "Our math team has always been strong – just as all of our UIL Academic team members are – and we are excited for their opportunity to compete against the best in the state of Texas, and to go for back-to-back championships."
Oh was the second-place winner individually at the regional, and earned a silver medal; Santana tied for 8th; Salgado tied for 11th; and Genc finished 24th. All four of the team members became eligible for scholarship money offered specifically for students who have advanced to the UIL Academic State Championship level.
"We were surprised a bit when the results came back, but these kids worked hard to put themselves into a position, to advance as a team," Cantu said. "So we are proud to continue this tradition here at Wisdom and build on the legacy that our math team established from 2017-19."