On Tuesday, the Westside Wolf Band, Westside High School, the Houston Independent School District community, Superintendent Millard House, and family members gathered around a tree to celebrate the life of David Castro. The tree represented more than just life, but optimism on the second day of school, as Paul Castro, David's father, started the #RAKDavid (Random Act of Kindness) movement.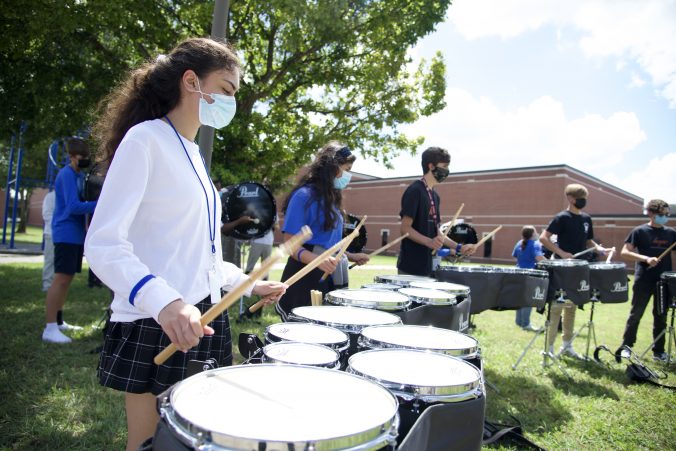 David Castro, a senior on the Wolf Band Drumline and drum captain of the entire percussion section, died July 7 from gunshot wounds from a drive-by-shooting the day before as he was returning home from a Houston Astros game. David Castro began playing percussion back in sixth grade at West Briar Middle School. David Castro was described by friends and family as motivated, focused, responsible, prepared, and most importantly, kind.
"Random acts of kindness are things that all people can do to put goodness back into the world," Paul Castro said. " I think in a time where we are at now where there is so many unknowns with Covid and everything, people want to feel a sense of control and ownership over their lives, and one of the best things to do is to go out and do something good for the community, for yourself, for someone else, and in doing that you can make the world a better place."
Principal Keri Wittpen began the ceremony by introducing the band, and presenting the tree to the guests and media in attendance. The Wolf Band played a few cadences commonly heard at pep rallies, and other school events to the crowd surrounded by the tree planted in David Castro's honor.
"The drumline has done a remarkable job of leaning on each other for support in the time since David's death" said band director Gerardo Gonzalez. "I think they have all collectively realized the importance of acceptance without forgetting—that they have a chance to honor and remember David by committing to the hard work required this season; to get things done as a drumline in a way that would have made him proud to be drum captain."
The Random Act Of Kindness event was part of two days of back-to-school celebrations HISD is highlighting to show the many different events to start the year, from safety and procedures to the uplifting like #RAKDavid.
Westside displayed a #RAKDavid wall where students could place their own notes of positive affirmations. House placed a note that read "I plan to focus on making better opportunities for many of the homeless students in Houston."
House is no stranger to helping out the homeless, as in the past he's assisted homeless students in his own home until they could get on their feet. The impact of the #RAKDavid movement has been felt immediately on campus.
"The loss of David Castro was the most difficult experience I've encountered as an educator," said associate principal Tyrone Davis, who oversaw the event. "David was an extraordinary person who excelled academically, and as a very respected musician. His death impacted the entire Westside community, and millions of people across the nation. The #RAKDavid (Random Act of Kindness) has given our students and staff an avenue to cherish David's life by making world friendlier through random acts of kindness."
For the Castro family, Tuesday's event was more than just a celebration of their son's life, but a welcome return to Westside where Paul Castro served as the principal from 2005-2010. As the Magnolia tree stands outside the auditorium adorned with ribbons, and a "In Loving Memory Of David Xavier Castro" note, the tree connects the Castro family to the community once again.
"Our family has roots in this school, " said Paul Castro. " And now, it literally has roots in this school."