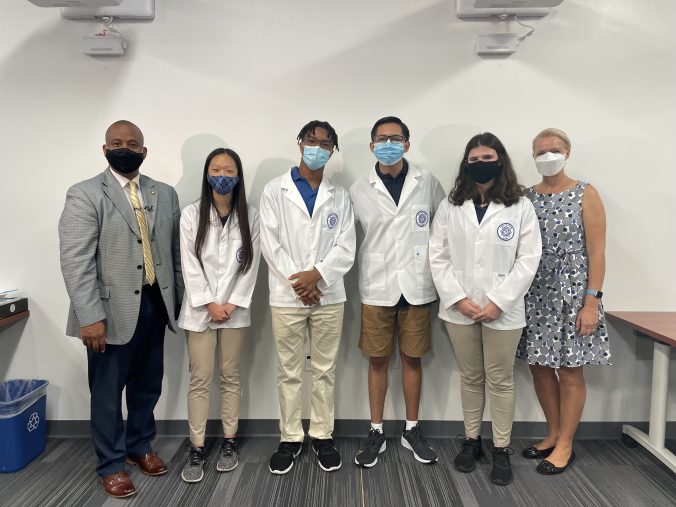 Tucked away on a side street in the shadow of the largest medical center in the world, DeBakey High School for Health Professions is the district's medical magnet school, where students can learn more about the various career paths involved in the healthcare field, from the typical bedside options to the legislative branch.
Students like Cindy Choi, Paul Daniel, Caitlyn Davies, and David Dzul, all seniors, who gave Superintendent Millard House a tour of the school, which opened its $65 million, state-of-the-art, 194,000-square-foot building on the western edge of the Texas Medical Center in 2017.
House was visiting the school on its second day of the 2021-2022 school year. As the ongoing global pandemic continues to make headlines, students at DeBakey are preparing to be the next generation of healthcare professionals.
"I had an opportunity to truly understand what's offered here at DeBakey," House said. "It's obvious that these students' hard work and preparation is lining up with the opportunities available to them at this school. I really hope that those opportunities continue to align with their dreams."
One of those opportunities offered is the chance to graduate as a Certified Clinical Medial Assistant—at no cost to them.
"What an amazing opportunity that HISD provides, without a cost to us," Dzul said.
A senior at DeBakey, Dzul is a first-generation student in HISD, and has attended the medical magnet school for all four years. He plans to pursue medicine, as well as his interest in the political realm.
"I found an interest and a passion for medicine coming from a low-income, first-generation family," Dzul said. "There was always a struggle to find who our provider was and how to get that healthcare, so coming to DeBakey really helped me understand the field and the inner workings of it. So, knowing about the community and knowing about what affects public policy is definitely one of my passions along with it."
For another senior, Caitlyn Davies, DeBakey offers an opportunity to lay a strong foundation for college.
"We're given these opportunities at a much younger age, so when we go to college, we're already going to be a step ahead," Davies said. "We have that advantage of getting to learn all this information sooner."
The school's location—just steps from top-tier hospitals in the Texas Medical Center—gives students the unique opportunity for an inside look at the medical world, offering a "broad array of insights" according to Paul Daniel.
"After going through the past three years, I've seen how this school has prepared me and kept me on a straight line, so I can have a good career in the future," Daniel said. "My experience at DeBakey—as well as the experiences outside that it's allowed me to have—have shaped my idea of the future."