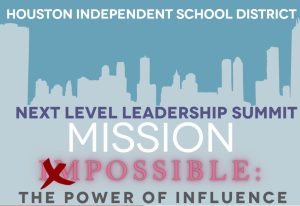 Houston Independent School District's Schools Office-Leadership Development and Office of Talent-Recruitment and Selection are hosting a leadership development and networking opportunity as part of the Next Level Leadership Series and HISD's "Grow Your Own" Initiative—Spring 2022 Leadership Summit.
The Summit theme—Mission Possible: The Power of Influence—focuses on leading with influence, which requires a skill set and best practices to propel current and aspiring leaders, both internal and external candidates, to the next level in their careers.
Since increasing capacity of current Tier II campus leaders and "building the bench" for the next generation of principals remain among the key objectives of the district's "Grow Your Own" Initiative, participants will have opportunities to learn what it takes to be a leader in HISD.
Participants will receive a welcome message from the Chief Talent Officer and hear from a leadership panel comprised of assistant superintendents. These leaders will provide insight into their personal journey to leadership and other valuable leadership experiences that help define a profile of an effective campus leader.
Following the panel discussion, participants will choose from various learning sessions aimed at sharpening their knowledge and skills in the areas of effective hiring practices, the HISD leadership pool application process, resume writing and interview tips, instructional coaching and feedback, school culture, and more.
The Next Level Leadership Summit will be held virtually via Microsoft Teams on Saturday, Feb. 19, 2022, 8:30 a.m.–12:30 p.m.
Use the SCHED app link to register. Registration will close by noon on Friday, Feb. 18.