A robotics team from Mandarin Immersion Magnet School claimed three honors at the Texas Region 3 VEX IQ Robotics Championship on Saturday, Feb. 12.
The team, dubbed the "Baby Giraffes", earned the title of Teamwork Champion which qualifies them to compete in the World Championship in May. The World Championship will include the top 300 teams from around the world.
The MIMS students have been competing together for four years and include fifth-graders Brooke Yu, Liem Vora, Toby Liang, and Enya Wu. They got their team name when they were in the second grade, and a former member noticed their robot looked like a baby giraffe. The team meets every weekend to work on the robot and practice driving.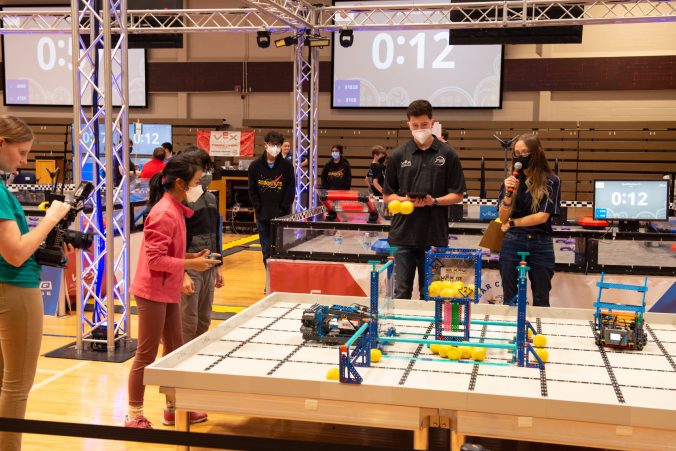 "They have come a long way in four years," says team coach Charles Vora. "The team has been through lots of ups and downs. I'm proud of them for sticking with robotics. The last four years have been a great learning experience for everyone."
The team won by excelling at the game "Pitching In" against 26 competitors. "Pitching In" is a robotics challenge where teams have one minute to earn points by driving their robot to move 22 balls into one of two scoring zones.
The team also won the Robot Skills Champion title for having the highest combined driver score and autonomous programming score. Brooke Yu and Enya Wu scored a team high of 79 points in the driver category. Liem Vora wrote the autonomous program for the robot which scored 64 points. The team was also awarded the Think Award for the highest autonomous programming score.