Teacher Recruitment will host an in-person teacher hiring event on Saturday, April 9, from 9 a.m. to noon at the Delmar Fieldhouse.
The recruitment team invites all pool-approved teacher candidates, HISD student teachers, ACP candidates that have a current Statement of Eligibility (SOE), and May/August university graduates.
Internal HISD Teachers interested in participating in the upcoming Open Transfer Period are also be invited. This will give principals an opportunity to interview and meet potential existing HISD teachers for any 2022-2023 vacancies.
Click here to register.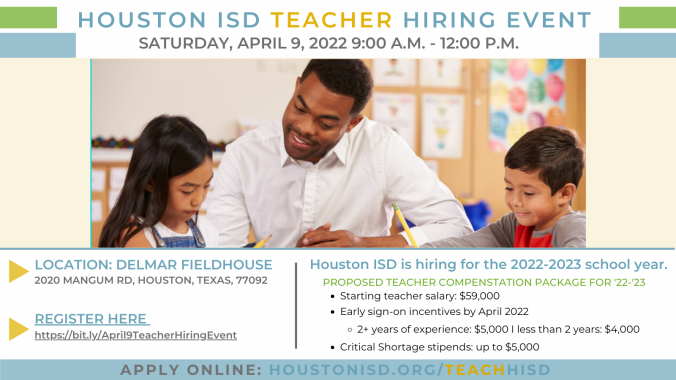 Below is a list of teacher hiring incentives laid out in the district's five-year strategic plan:
FOR SY 2022-2023:
Teachers with at least 2 years of experience who sign to join HISD by April 2022: $5,000
Other teachers who sign to join HISD by April 2022: $4,000
All other new teacher hires through August 2022: $2,000
CRITICAL SHORTAGE AREA STIPENDS: SY 2022-2023:
Bilingual teacher: $5,000 (continuation from this year)
ESL teacher: $5,000 (continuation from this year)
Special Education teacher: $5,000 (up from $675)
Secondary Math teacher: $2,000 (up from $675)
Secondary Science teacher: $2,000 (up from $675)
Counselor or social worker: $2,000 (new in SY 2022-23)
Nurse: $3,000 (new in SY 2022-23)
Bus drivers/attendants: $1,000 (continuation from this year)