Get your bats ready for the 2023 Spring Training Data Series Conference! This year's event is dedicated to our World Series Champions, the Houston Astros, and will be held in person on Saturday, March 4, 2023, at Chavez High School (8501 Howard Dr., 77017) beginning at 8 a.m.
This event is open to ALL districts, charter schools, and private schools.
HISD's Student Assessment Department is here to help you score runs to win the game of educational success. Campus leaders and educators will learn how to pitch, hit, and run with data-driven best practices, develop in-game strategies to strikeout testing irregularities, pitch fast balls to ensure STAAR readiness, and complete a homerun as we countdown to STAAR.
These sessions will make summative and formative connections to STAAR and will include state accountability, designated supports, STAAR 2.0, TEKS monitoring, data-tracking systems, as well as critical reports for teachers and campus leaders. Lead4ward Rockin' Review and other partners will be there to help us countdown to STAAR.
Superintendent Millard House II, Chief Academic Officer Dr. Shawn Bird, and Executive Officer Dr. Allison Matney will open the event and greet attendees. There will be giveaways and opportunities to win gift cards during the Seventh Inning Stretch and Homerun Celebration. Lunch will be provided as well as light snacks throughout the day. There will also be a Vendor Expo for participants to visit throughout the event. Be on the lookout for Astros-themed prizes and other surprises.
Sign up for sessions via https://dataseries2023.sched.com/. HISD attendees must register via OneSource using course #1488095.
Please contact Student Assessment at assessment@houstonisd.org or (713) 349-7460 for assistance and/or questions.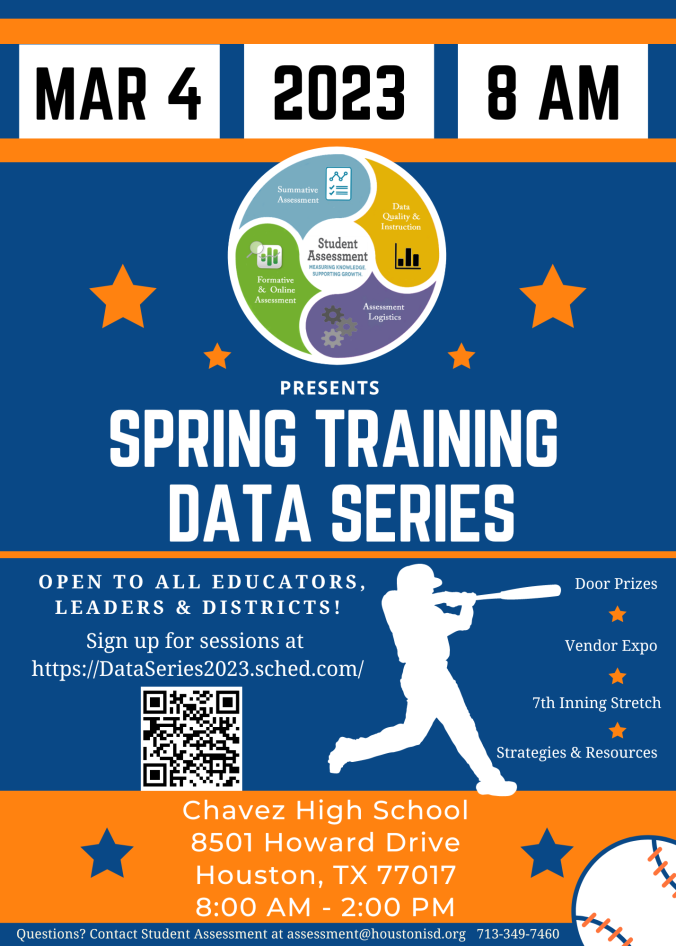 Follow us on Twitter @HISD_Assessment. #DataSeries