For the first time in 40 years, an HISD student has been selected to participate in the United States Senate Youth Program.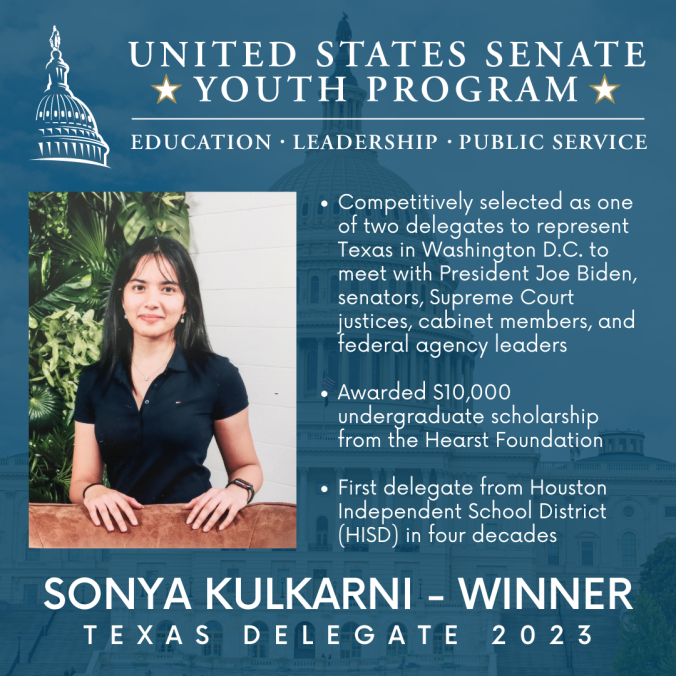 Bellaire High School Senior Sonya Kulkarni joins Senators John Cornyn and Ted Cruz in representing Texas during the 61st annual USSYP Washington Week taking place in Washington, D.C. March 4-11. Kulkarni is among 104 other national student delegates in attendance to receive a $10,000 college scholarship.
Created in 1962, the USSYP aims to help instill more profound knowledge of the American political process and lifelong commitment to public service for student delegates. Each year, the extremely competitive merit-based program selects two of the most outstanding high school students from each state to participate in an extensive week-long study of the federal government and the people who lead it.
Kulkarni sat down with HISD Strategic Communications Specialist Travion Harmon to discuss her excitement for being selected as the first HISD student in four decades to represent Texas in the USSYP.
Q: How did it feel to find out you were selected as a candidate for the 2023 United States Senate Youth Program?
A: I was ecstatic! I've always had a deep passion for civics and public engagement, so to be recognized for this incredible award was tremendous!
Q: How does it feel to be the first Texas representative from HISD in more than four decades?
A: It feels amazing! I'm extremely humbled and look forward to representing HISD. I actually serve as a legislative advisory committee member for HISD, so I'm familiar with some of the workings of the district and how incredible it is.
Q: How did you learn about the U.S. Senate Youth Program and what made you decide to apply?
A: I was googling opportunities for how to get involved in advocacy, which is usually how I get started with most of the opportunities that I'm apart of right now. I was also researching how to visit Washington, D.C. to learn about the legislative process, and I found the United States Senate Youth Program, and I reached out to our principal at the time, and she was willing to endorse me for the program, and so that's how I started applying. It was a lengthy process, but it worked out.
Q: Speaking of Washington, D.C., will this be your first time visiting, and what are you most excited about visiting?
A: I visited Washington, D.C. as a child, and this last September I visited as a national ambassador for the American Cancer Society, which is where I gained most of my advocacy experience. Our advocacy efforts were fruitful, which I was happy about, and now I get to go back to D.C. to admire the work and see what other issues there are remaining to be fixed. I'm most excited, however, about seeing the day-to-day processes of legislative activity, which I didn't get to see previously, and of course meeting President Biden and notable members of Congress, which I didn't get to do last time, so I'm super excited about that.
Q: What are you most excited to learn from your experience in the U.S. Senate Youth Program?
A: I'm really excited to expound on what Congress has to offer for me. I think that maybe if I can learn what individual Congresspeople have to offer in terms of their opinions, then I can formulate my own opinion and maintain bipartisan attitude throughout the whole experience and learn how it works over there.
Q: If you can share a little insight, what type of day-to-day activities will you and other students selected for the program participate in?
A: We have Q&A sessions with Congress members and Q&A sessions with representatives of the National Press. Being the Executive Editor and Chief of Bellaire High School's Newspaper Three Penny Press, I'm super excited to ask about how the journalistic process works on the national level. We'll have Q&As, and then we'll have a brief meeting with President Biden, and I think throughout the rest of the time we'll do some mock-style debates on the Senate floor, so that'll be fun. We'll visit some national museums and speak with curators of the big galleries, so I think that will be fun as well.
Q: What inspires you to serve your community?
A: One of the biggest sources of inspiration are my parents. They're my mentors and the fact that they've managed my disability of hearing loss so spectacularly has inspired me to want to make sure that other people can experience such quality of care and quality of education. I think that everybody should be starting on an equal playing field in terms of health, and my parents really instilled in me the unshakable values of discipline and serving my community, and I can't thank them enough for doing that because I wouldn't be here without them or their support.
Q: What would you say to any student who aspires to be selected one day for the U.S. Senate Youth Program?
A: My biggest piece of advice for a student in general and students who are interested in politics and joining USSYP would be to embrace discomfort. That's something that I really pry because, initially, I was nervous about making my beliefs and my opinions about politics and controversial topics public because I was afraid that it would alienate myself from my peers. But in retrospect, deciding to put myself in places of discomfort, whether that be public speaking, founding a nonprofit, writing some books that I have on Amazon, and joining and leading the school newspaper has really been the best possible decision I could've made throughout my high school career.
To learn more about Sonya Kulkarni and her journey, click here.