In an ongoing effort to promote school safety, HISD Police, Houston Police, and Houston Ministers Against Crime are once again partnering for Project Safe Start.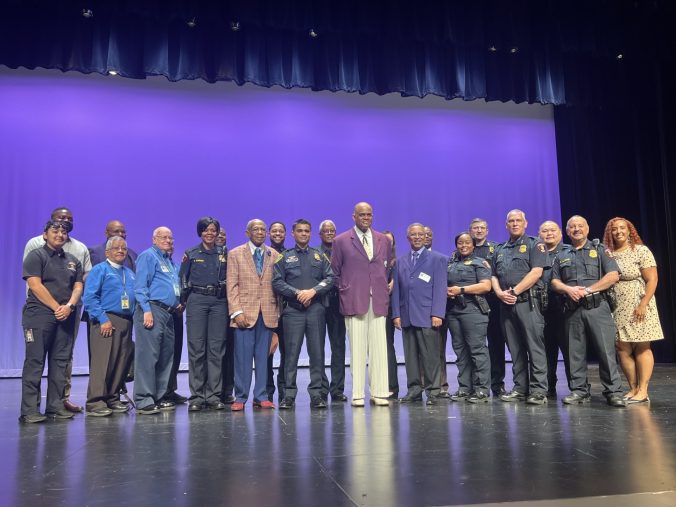 This is the 33rd year for the initiative that involves increasing security presence as the district winds down and illegal activity tends to ramp up during the final days of the school year, ensuring a safe transition to summer.
On Wednesday, May 24, the group walked the halls of Sam Houston Math, Science, and Technology Center and visited several classrooms to encourage students to stay out of trouble and stay focused on their futures.
"Why we do this is because of our kids," said HPD Assistant Chief, Yasar Bashir. "We want them to have a successful career, a successful year in school, and also be safe once school does end. We want to take two approaches: one is preventive, and one is proactive."
Part of that plan includes placing additional patrol officers near schools and throughout neighborhoods surrounding campuses to help monitor and decrease any potential issues.
HISD Police Chief Pedro Lopez also encouraged students to say something if they see something. For students who are reluctant to tell on their peers, HISD PD has a form available to make an anonymous report.
"These are our children, these are our neighbors, these are our future, so let us do what we can to give them a safe start so they are able to enjoy this summer without any problems," said Rev. Nathaniel Floyd Williams Sr., Founder and President of Houston Ministers Against Crime.
Project Safe Start, which began as collaboration between officers and clergy on the 1980s, is also launched at the start of every school year and before the winter break.
For more information on HISD PD and their daily efforts to keep HISD schools safe and secure, visit their website or follow them on Twitter.