Qualifying campus-based HISD employees are invited to support teacher recruitment efforts by taking part in the district's Teacher Referral Bonus program. Those who successfully refer a candidate will receive a $300 bonus for teachers who sign a contract and start work by the first day of school, Aug. 28, 2023.
"We recognize that our employees are some of our best ambassadors, and we want to tap into that collective power to bring in outstanding educators who are passionate about making a difference in the lives of our students," said HISD Superintendent Mike Miles. "By offering this referral bonus to our talented and dedicated employees, we hope to attract more top-tier talent to HISD."
As part of their onboarding process, referred employees will complete a "How did you hear about us?" form, where they will have the chance to indicate the name, email address, phone number, and campus location of the person who referred them to HISD.
Note that bonuses are payable only to eligible HISD employees who refer classroom teachers, subject to meeting eligibility requirements.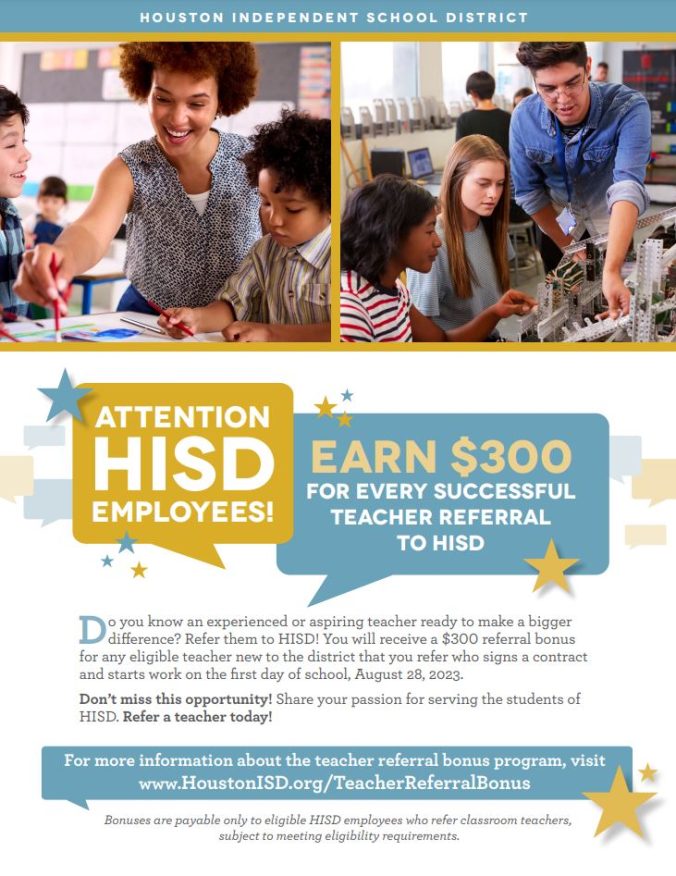 For more information about the Teacher Referral Bonus program, click here.
Don't miss this opportunity! Share your passion for serving the students of HISD with future district teachers and broaden your impact. Refer a teacher today!