For the second year in a row, the Houston Astros Foundation partnered with Honeywell International Inc. to recognize 10 outstanding teachers from the Greater Houston area for their commitment to excellence in STEM and contribution to creating innovative ways to improve student achievement and interests in robotics and coding.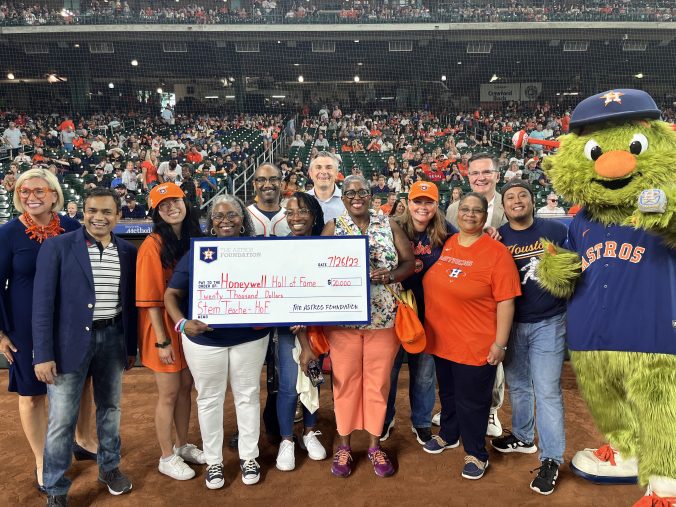 This year, six exceptional HISD educators were inducted into the 2023 Honeywell Hall of Fame for Robotics and Coding at a Houston Astros game on July 26:
Djuana Bossette – Pershing Middle School, technology education teacher
Luis Carreon – Fonville Middle School, STEM teacher specialist
Ralph Hamilton – Energy Institute High School, technology education teacher
Gerjuan Oneal – Twain Elementary School, technology education teacher
Myeisha Webb – Deady Middle School, Mathematics Algebra 1 teacher
Jennifer Simmons – YWCPA, technology education teacher
Each teacher received $2,000, a Honeywell and Houston Astros gift bag, and Houston Astros tickets.
"I've only been teaching coding for two years, so this is a pretty huge honor for me," said Simmons. "My students are really a testament of why this award was awarded to me because I couldn't have earned it without their engagement desire to want to learn."
Selection criteria for being nominated included demonstrating classroom creativity and innovation, increased student achievement and affinity for robotics and coding, leadership skills, and going above and beyond in students' lives.
"It is an incredible honor to be inducted into Honeywell's STEM Teacher Hall of Fame along with such outstanding teachers," said Hamilton. "One of my former students who is graduating from Texas A&M responded to the news by stating that the impact of STEM teachers reaches far beyond our expectations."
According to HISD's STEM Academic Instructional Technology Department, their goal is to encourage students to take thoughtful risks, engage in experiential learning, persist in problem solving, embrace collaboration, and work through the creative process. The department works collaboratively with STEM programs district wide to provide direct support and training, information, and customized instruction.
To learn more about STEM in HISD and programs offered, click here.