Houston Independent School District is hiring bus drivers for the 2023-2024 school year. In collaboration with Human Resources, the Transportation Services Department will host a Bus Driver Hiring Event on Wednesday, Sept. 6, from 9 a.m. – 12 p.m. at the Northwest Motor Pool complex (6351 Pinemont Drive, 77092).
HISD is continuing to offer a $3,000 sign-on bonus to the first 50 new drivers hired who have a Commercial Driver's License (CDL) and a $1,500 sign-on bonus to 80 non-CDL drivers who are hired.
HISD bus drivers earn an hourly wage of $18 (with a guaranteed minimum of six hours per day) and can earn $500 extra per month for perfect attendance during the first 10 months of employment. Employees will receive free CDL training as applicable. Other competitive benefits include health, dental and vision insurance, Teacher Retirement System participation, a 403(b) retirement plan, and special trip pay options. 
Register for the Sept. 6 Hiring Event here.
For immediate consideration, interested candidates can apply online at www.HoustonISD.org/Careers.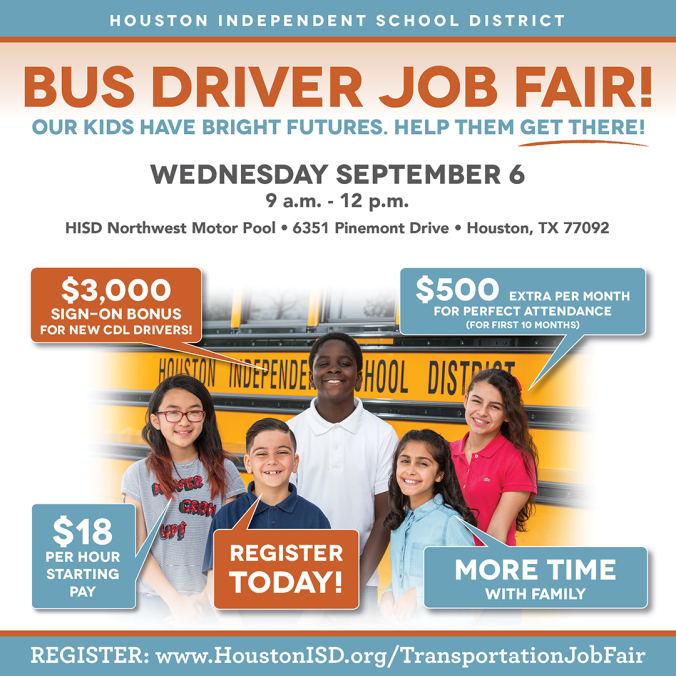 Applicants must be at least 18 years old with a valid Texas driver's license and a motor vehicle report with less than six points. Candidates must bring their Social Security card and employment authorization card, if applicable. They must also be able to pass a background investigation, drug and alcohol screening, and a Department of Transportation physical. Applicants must also be able to communicate in English, both verbally and in writing.