Teacher Sarah Honore began her day like any other morning, not knowing what was waiting for her at Eastwood Early College High School. Happening inside the cafeteria was a surprise celebration, complete with a generous $25,000 check.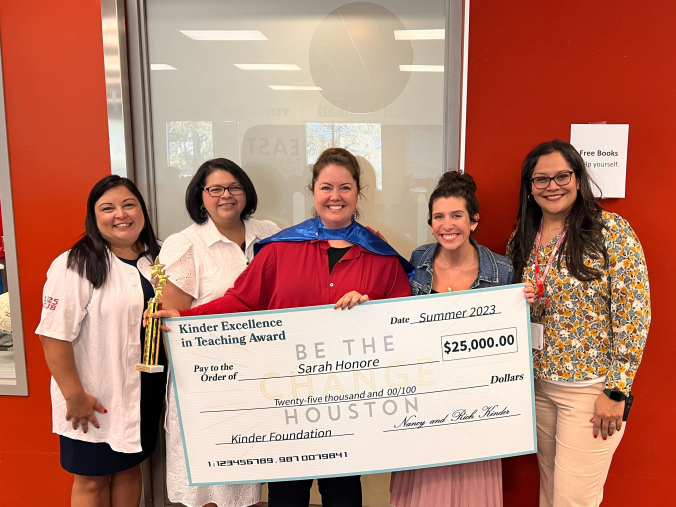 With more than twenty years of experience as an educator, Honore was named the 2023 Kinder Excellence in Teaching Award recipient Wednesday, Aug. 30, by the Kinder Foundation .
"It was a complete and total surprise. I didn't even know I had been nominated," said Honore. "It was a very humbling, overwhelming experience, and I felt so fortunate to be a part of it."
Honore was nominated by former EECHS principal Stephanie Square, who currently serves as the principal of Yates High School.
"Ms. Honore's dedication to her students is evident before she even meets her students," said Square. "She is highly invested in their social, emotional, and mental wellness without compromising learning expectations. I've heard students say it is the class where they learned the most and felt the safest."
According to the Kinder Foundation, The KETA program seeks to acknowledge educators who demonstrate innovative and results-oriented teaching. Since its creation in 2001, the program has awarded more than $4 million in grants to more than 275 Greater Houston area teachers.
"I feel so grateful to be able to do this work and feel so passionately about working with kids," said Honore. "I've been touched and supported by everybody I've had the opportunity to work with in this district, and I feel really grateful that I've had the opportunity to work with such amazing people."
Honore plans to use the grant money towards adding more books to her classroom library and continuing to build a community of literacy for students.
To learn more about the KETA program and Kinder Foundation, click here.