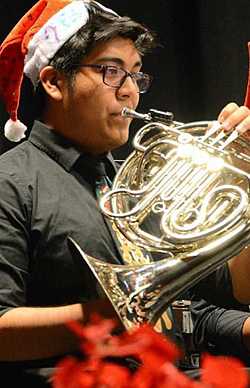 Two dozen HISD students have earned a spot on a Texas Music Educators Association All-State Ensemble this year.
Flutist Jiayuan Han (Lamar HS) and French horn player Eduardo Sierra (pictured, Waltrip HS), as well as seven students from Bellaire High School and 15 from the High School for the Performing and Visual Arts (HSPVA), will perform in various groups during the TMEA's annual convention in February.
All-State is the highest honor a Texas music student can receive. More than 1,600 students were selected this year through a process that began with more than 64,000 from around the state vying for the honor to perform in one of 15 ensembles (bands, orchestras, and choirs).