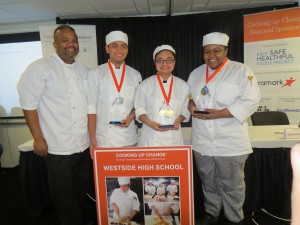 Three students representing Westside High School's Culinary Arts Program won grand champion for the second year in a row at the Cooking Up Change Culinary Competition held on March 28.
Jalien Noel, Jose Acosta, and Briseida Salas wowed judges with a Cajun chicken with black bean hoppin' John, Texas cabbage and greens, and pineapple turnover. Their winning meal will be featured on next school year's high school lunch menu. The team will also travel to Washington, D.C. in June to represent Texas in the national Cooking Up Change competition against more than ten teams from across the nation.
Westside beat out six other teams to win the prize at the competition, which challenges students to follow federal nutrition guidelines and budget constraints just as the HISD Nutrition Services Department must. The teams followed a rigorous recipe development process with a limited list of ingredients to create dishes that are low in calories, fat, sugar, and sodium.
Each team stood in front of the judges and audience at The Art Institute of Houston and presented their main dish and two side items. Students had to present their menu in five minutes, describe ingredients and answer questions from the judges.
When asked by celebrity guest judge Roshni Gurnani the challenges they faced with the dietary limitations, Barbara Jordan High School's Team #3 member Stefanie Perez responded with, "With the limitations on sugar, we used natural sugars to sweeten our dish such as Pineapple juice for our fruit salad." Gurnani, no stranger to culinary competitions, was the winner of Food Network's Chopped and a participant in Hell's Kitchen.
In addition to Gurnani, guest judges included Aramark Education/HISD Nutrition Services Executive General Manager Ray Danilowicz; President of the Art Institute Susanne Behrens; HISD Nutrition Services Senior Administrator Audene Chung; and Lamar High School Culinary Arts Student Myla Bell. Aramark is the official National School Nutrition Partner/Sponsor of the competition.
Those in attendance had the opportunity to sample several items created by the other participating students, including teams from Jordan, Davis, and Milby High schools.
"This experience has taught me how to work in a team and with the ingredients that I have available at the time. This has been a great experience. When they announced that we won, I felt so proud of myself and my team. We all felt that the hard work we put into this competition paid off," said Westside Team member Briseida Salas.
Cooking up Change® is a national healthy cooking competition launched by Healthy Schools Campaign. Cooking up Change challenged students to create a school meal that meets nutrition standards, uses ingredients commonly available to school food service, requires only basic kitchen equipment and a minimal number of preparation steps, costs only about $1.00 for ingredients and most importantly that students will enjoy. It is underwritten by Aramark.