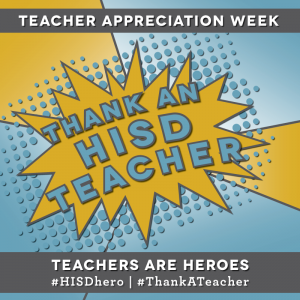 Share your photos, videos, and messages on social media 
While they may not wear capes, HISD teachers truly are real-life superheroes. As part of National Teacher Appreciation Week (May 2-6), HISD is asking students, parents, and staff to thank a teacher hero in their lives and share out on social media.
Take a picture with your favorite teacher (past or present) or take a picture of your child with his or her favorite teacher and post on social media using the hashtags #HISDHero and #ThankATeacher. If your favorite teacher is not nearby, take a selfie holding a piece of paper with a simple message thanking that teacher who made a difference in your life.
Or better yet, surprise an HISD teacher using your camera cell phone and tell them why they are your teacher hero. Check out the video below and watch as Westbury High School students give a surprise thank you to their teachers and even their principal.
[su_youtube url="https://www.youtube.com/watch?v=qpsGEGSncXE" responsive="no"]youtube url="http://youtu.be/GzLcJfvbaww" width="320″ height="200″ responsive="no"][/su_youtube]
HISD will be sharing the posts on its own social media channels, so be sure to follow us on Twitter @HoustonISD and like us at Facebook.com/HoustonISD.