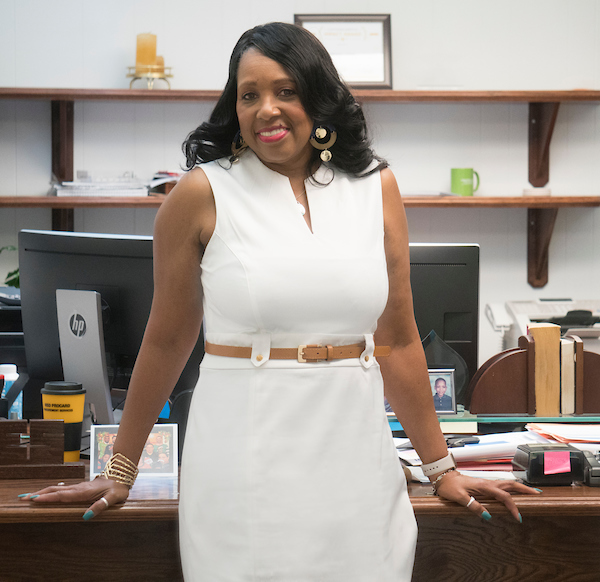 As one of the longest-serving employees in Facilities Services and Fleet Operations, Sherry Jones' career is fueled by a desire to be of service and to help wherever she can.

Jones – an administrative assistant – has been with HISD for 47 years. In that time, she's worked with 15 managers and under the leadership of 11 superintendents, working hard to ensure her department is always properly supported.

According to Jones, her strong work ethic and desire to be of service was instilled by wise words from her mother that she carried with her throughout her career.
"My mom always told me when you start something, put your all into it," Jones said. "I've done that, and I know she is proud of me."
Jones started her time in HISD as a dispatcher in January 1974. It didn't take long for her supervisor – the then-director of maintenance – to see her value. After working with her a short time, he noted her work performance and asked her to be his secretary and she agreed. And the rest is history.
For the last 16 years, Jones has worked as the senior administrative assistant to General Manager of Facilities Maintenance and Operations Alfred Hoskins. The department is responsible for ensuring all district facilities are maintained and running properly.
"When I came on board as acting manager, her experience set me on the right track with how to do the job," Hoskins said. "She made my job easier because I didn't have to go outside of the office to get the information I needed."
Hoskins said he could not have asked for a better person to assist him.
"She is always on time, makes sure everything is done right, is professional, and loves her job," Hoskins said.
Last year, Jones was recognized for her tireless support when she was selected as one of Business Operations' first Customer Service Impact Award winners.
"It was very rewarding to be recognized," Jones said of the honor. "I enjoy the people that I work with. I like to help people and I treat people the way I want to be treated."
Jones' dedication and work ethic are clearly a legacy that she has passed onto her two children, both HISD graduates. Her daughter —a teacher at Montgomery Elementary — was even named 2019 Teacher of the Year for the campus.
The woman who loves to help, not surprisingly, has no plans of retiring anytime soon.
"Everyone asks me when I am going to retire," she said. "I guess I'll wake up one day and say this is it, but right now I enjoy, and it keeps me active."