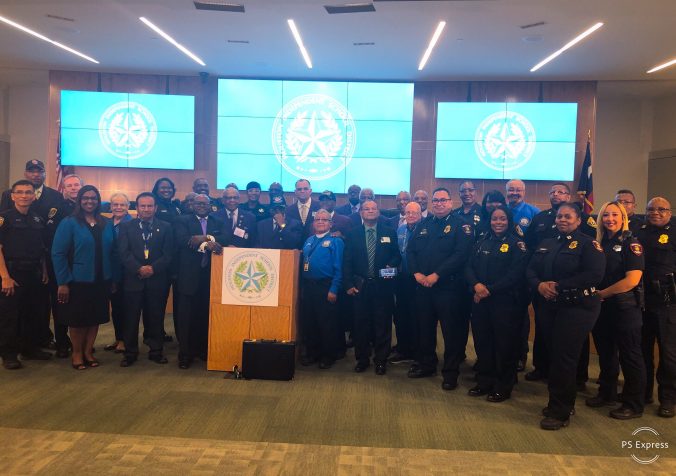 Local religious, school, and community leaders joined together Friday to kick off the 29th year of Project Safe Start to ensure students are safe as they transition to summer vacation.
Together, the group will ensure additional patrol officers are placed in the immediate vicinity of schools and throughout neighborhoods surrounding school campuses to help monitor and decrease any illegal activity during the last few days of the school year.
"We acknowledge that it takes all of us to make this possible," Houston Ministers Against Crime Pastor F. N. Williams II said. "It takes all of us working together to bring this to pass."
The Project Safe Start partnership includes Houston Ministers Against Crime, HISD Police Department, Houston Police Department, Harris County Sheriff's Department, Texas Southern University Police Department, and other local school districts and their police departments.
"The most important thing we do is protect our students. We keep them safe from harm," Interim Superintendent Dr. Grenita Lathan said. "If students don't feel safe, they can't learn. It's as simple as that. Safety is a basic human need."
HISD Chief of Police Paul Cordova called upon parents to help the group's efforts. He asked parents to remind their children that they should not engage in physical fights in the coming days.
"Do your best to find another resolution to conflict. No fight is really a safe fight," Cordova said. "It could escalate. Tempers flare, and someone could produce a weapon, someone could fall and injure themselves. You could get disciplined or criminally charged."
Houston Police Department Assistant Chief Sheryl Victorian said her department will increase visibility before, during, and after school next week. She called upon the community to help make sure the school year ends on a safe note.
"This takes a village," Victorian said. "We're asking that our parents, bus drivers, crossing guards, big brothers, and big sisters be on look out in the community as school ends. If you see something, say something."