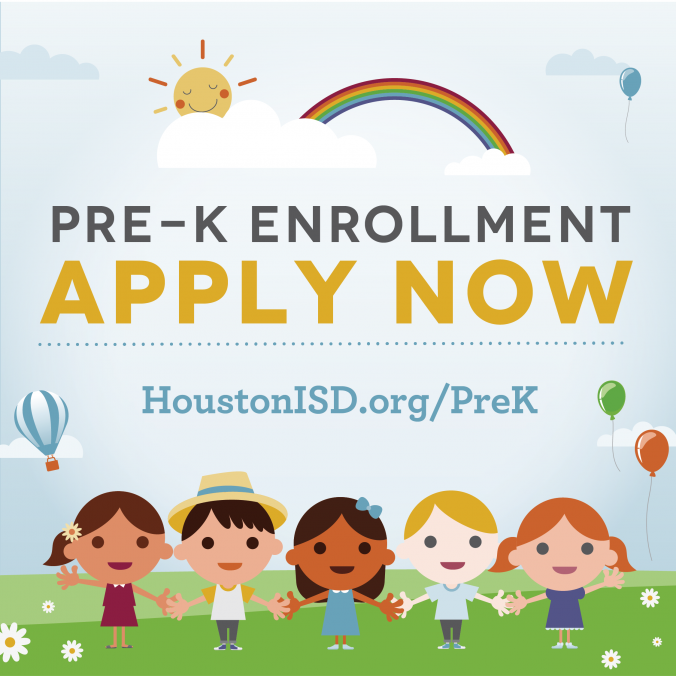 Due to the districtwide closure and current restrictions involving social distancing to prevent the spread of COVID-19, the application process for pre-K is now online only.
HISD is currently accepting applications for its full-day pre-K program at schools across the district, offering more 3- and 4-year-old students in our community with the opportunity to attend a high-quality program that will build a strong foundation of learning.
Due to precautions surrounding the coronavirus, pre-K application and enrollment timelines have been adjusted:
Phase 1 applications closed on February 28
Phase 1 TEA Eligible notification moved to June 1 (formerly May 1)
Phase 2 pre-K applications opened on March 1 for TEA eligible pre-K 4(March 1 – August 24)
Phase 2 waitlists open 14 days after each Phase 1 notification date
Phase 3 pre-K 4 Tuition-based and pre-K 3 application notifications have moved to June 21 (formerly June 1)
How to enroll
Complete a pre-K application by visiting ChooseHISD.com or www.houstonisd.org/prek and uploading the documentation listed below:
Parent income (check, award letter, child support, SSD)
Proof of address (utility bill such as light, gas, water, or lease)
Child's original birth certificate
Child's immunization record
Parent identification
Who can enroll
To be eligible for enrollment in a free, full-day pre-K program, a child must:
Be 4 years of age on or before September 1 of the enrolling school year and a resident of HISD.
And meet one of the following criteria:
Unable to speak and understand English
Economically disadvantaged (eligible to participate in the National School Lunch Program)
Child of a member of the U.S. Armed Forces
Has ever been in state foster care
Homeless (no documents needed to enroll)
Child of a person eligible for the Star of Texas Award
Students who attend pre-K in the 2020-21 school year will benefit from engaging, age-appropriate, hands-on instruction, as well as:
High-quality teachers in every classroom
Optional bilingual classrooms
After-school care (available at some campuses)
Free breakfast, lunch, and dinner
Support to address mental and physical health, food and housing needs, and more
Parent education classes
Participate in HIPPY program
Children must live within HISD boundaries but do not have to be zoned to a specific campus to attend a pre-K program. A recent Rice University study found that HISD's pre-K program significantly increases kindergarten readiness after as little as one year compared with students who do not attend pre-K. Research also shows that students who attend pre-K perform better in K-12 education, are more likely to graduate and earn higher wages as adults.
For more information about HISD pre-K application, email studenttransfer@houstonisd.org
For more information about the pre-K program, email curriculum@houstonisd.org.