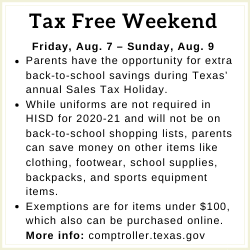 HISD has announced the suspension of the student uniform policy for the upcoming school year.
The district understands that the COVID-19 pandemic has created or increased the economic challenges that some families face. Relaxing the uniform requirements will hopefully provide some relief for parents as they prepare for the school year.
If students have uniforms and wish to use them, they are still welcome to do so. Students will still be expected to follow the dress code specified by each individual campus. Those guidelines can be found on each campus website. For more information about planning for the 2020-2021 school year, visit HoustonISD.org/Reopening.