Students from across the district participated in a virtual conversation with the HISD Police Department's C.O.R.E Team that focused on the importance of relational policing between police and youth.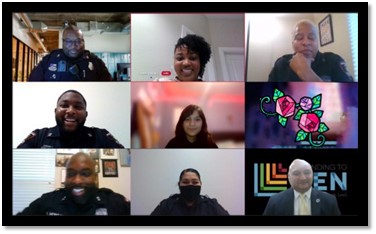 During the event, Let's Talk: Youth Promoting Social Action, more than 150 students from HISD's mentorship programs, Ascending to Men Project (ATMP) and the Resilient Outstanding Sisters Exemplifying Success (ROSES), engaged in dialogue and asked officers questions about how to best establish relationships with local police.
According to Officer Odell McKinney, building relationships based on trust and understanding leads to strong partnerships between officers and students that help solve problems, break barriers, and create positive environments.
"Youth today have questions, and they need answers. I want to make sure that we answer those questions and provide them with the right guidance to avoid trouble," McKinney said. "Police officers are sometimes not seen positively, but when we help mentor our youth, we allow them to develop positive relationships and perceptions."
The conversation also focused on erasing the negative social stigma around police officers, as well as bridging the gap between youth and police officers, which helps build safer communities and increases positive social action.
"I am not a snitch when I help police officers solve crimes," Franklin Elementary School student Jesse Hernandez said. "I am just helping them protect my community, family, and friends."
This event is part of ATMP and ROSES Youth Promoting Social Action series, which was created to cultivate positive perceptions between police officers and youth. For questions related to HISD mentorship programs please contact equityandoutreach@HoustonISD.org or call 713-556-8902.