Colorful replicas of maritime flags and bright green balloons adorned the aisles of the Austin High School auditorium to welcome U.S. Coast Guard Commandant Admiral Karl Schultz, special guests, and more than 300 Maritime program students.
"The maritime pathway is pretty cool," senior Diana Anaya said. "It's more than just boats and going to the beach. We learn about transportation, safety, and supply logistics."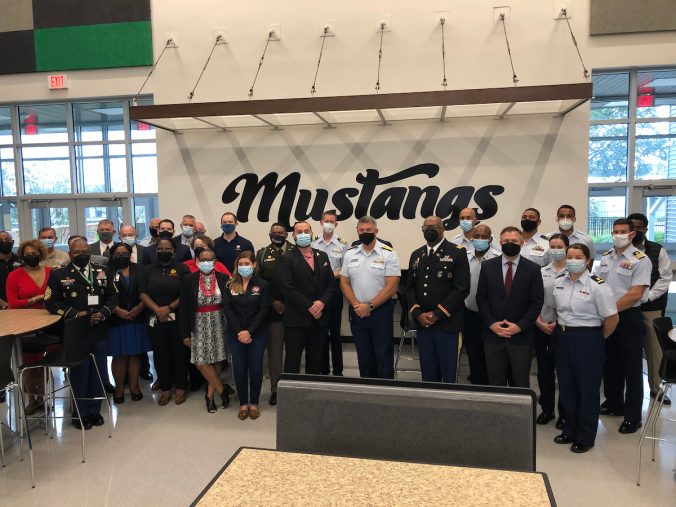 The new U.S. Coast Guard partnership is designed for Houston-area Career and Technical Education (CTE) maritime pathways. It is the start of a long-term commitment. The objectives are to make Coast Guard servicemembers available as mentors and to train students joining the workforce so that they can fill vital supply chain positions.
Shultz appreciated the event being held on Veterans Day and encouraged the students in the program.
"With so many commodities passing through our nation's ports, we need leaders with maritime skills," Schultz said. "You can be part of the solution for our supply chain."
There are nearly 500 students enrolled in the CTE Maritime Programs at Yates and Austin high schools who can earn college credits in logistics and global supply chain management through the Port of Houston, UH Downtown, and Houston Community College.
The students were able to review several maritime displays, handle some rescue equipment, and inspect the search and rescue boats and helicopter.
"It's going to be interesting to interact with Coast Guard mentors, because this program is helping me with my career when I graduate," senior Jacob Castillo said.