Music, dancing, pizza, and puppy kisses were the recipe for a great day at Sutton Elementary as Sandra Coley's fifth-grade class celebrated their grand prize for winning the HISD Police Name that Pup contest.
Earlier this fall, classrooms across HISD submitted votes to rename their newest team member and the department's first-ever comfort dog. And the winning name suits her well—Justice.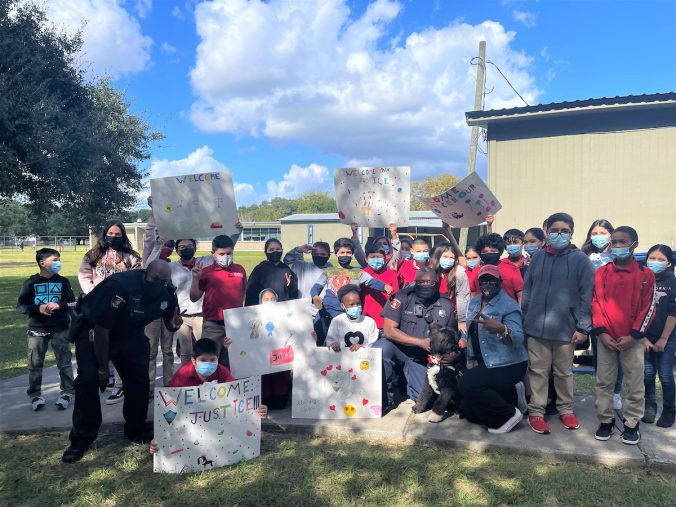 The hypoallergenic Bernedoodle—a special breed that has Bernese Mountain Dog and Poodle parents—is one of three dogs participating in the Pet Assisted Wellness Support Program or PAWS. Offered in partnership with HISD Police and Social and Emotional Learning, the program is designed to provide comfort and support to students in crisis.
"We came up with the name as a class by brainstorming ways that our police department helps us," said Coley. "The class came up with things like 'to protect and serve' and 'justice.' Then one student said, 'That's it! That's the name! We want Justice, and she can help us.'"
The pup recently joined HISD Police, working on campuses across the district to help combat stress and anxiety in students and build trust among police, students, and the community.
"Justice brings a lot of joy to the district, our department, and the community," said HISD Police Officer Steven Bennett, who takes care of Justice full-time. "She's still a puppy at heart, but she knows what she's doing and does an amazing job. We couldn't imagine a more perfect addition to our team or name for her."