For a second consecutive year, Academy Sports + Outdoors is honoring seven college-bound high school seniors from Yates High School with scholarships and a donation to the school totaling $50,000. 
Academy has pledged to award Yates High School $250,000 by 2025 to encourage and celebrate actions that promote equality within HISD. Funding comes from the Academy Sports + Outdoors Scholarship Fund, established in 2020.
"A college degree is a life-changing accomplishment for our students," said Superintendent Millard House II. "This is an extremely generous five-year commitment from Academy Sports. It is seed money that will produce generations of positive change. A college degree leads to great jobs and a better life for our students and their children. We are extremely thankful for the kindness of Academy Sports."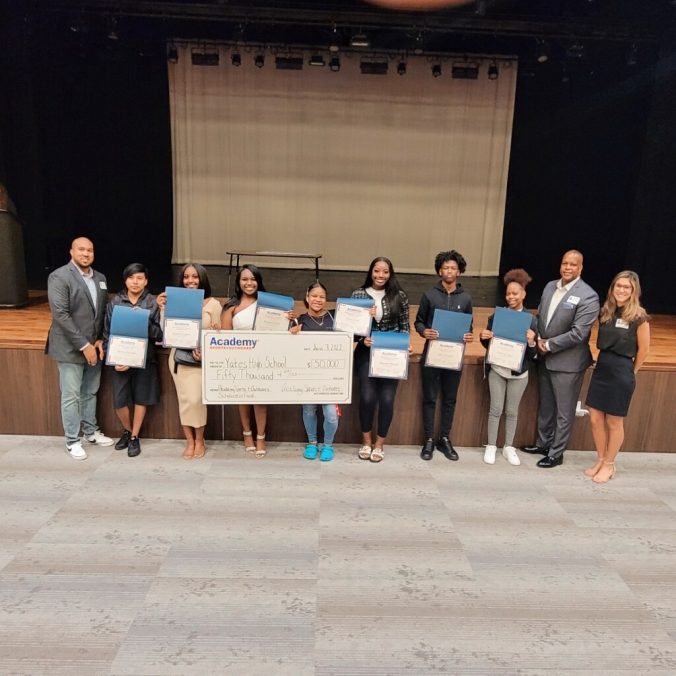 The following students earned scholarships:
Denecya Odom – $20,000
Kennedy Colen – $10,000
Elun Ferrel – $2,000
John Carswell – $2,000
Kiyanna Mensah – $2,000
Kynadi Demore – $2,000
Mario Alvarado – $2,000
The Yates High School campus also received a $10,000 donation.
Students were selected after submitting essays on how their participation in extracurricular activities or work in the community helped with the advancement of equity, empowerment, and education.
To view more photos from the presentation, click here.