Lamar High School twins Alex and Lauren Koong are graduating with grade point averages separated by only a thousandth of a point.
Alex is the class of 2022 valedictorian and Lauren is the salutatorian.
"His GPA was .001 ahead of mine," Lauren said. "The reason for that discrepancy was that we took different classes. I was the editor-in-chief of the high school newspaper. The journalism class was coded differently than some of his classes."
It may have cost her the number one rank in her class, but Lauren is glad she was involved in journalism. She believes it helped her develop as a person and a manager.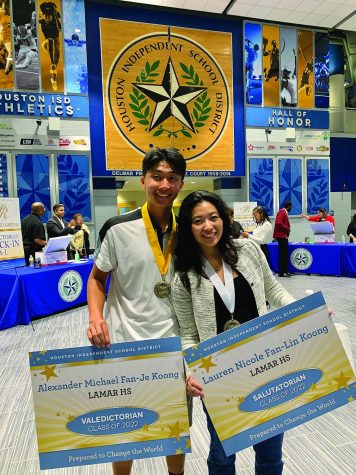 "When I started, I was shy and introverted, but the interviewing process taught me how to speak to people," she said. "I was the editor-in-chief all four years. As a freshman, the entire staff was all seniors."
Learning how to manage older students is a skill she'll utilize in the years to come. She recalls frequently reminding seniors of their deadlines.
"It has been a process, but I've learned a lot."
Lauren and Alex moved from the San Francisco area to Houston shortly before they entered high school.
"It was a huge culture shock at first, but we made a home for ourselves," Lauren said. "I call Houston my home."
Alex's extra-curricular passion is tennis. Before high school, Alex played as a single. The first time he played team tennis was at Lamar High School. He says he learned the value of being part of a team.
"Tennis was probably the biggest aspect of my time at Lamar," Alex said.
Alex is nationally ranked. The most recent ranking put him at 58 nationwide, according to a website Alex developed to track the nation's top high school tennis players. He uses an algorithm that ranks players based on their Universal Tennis Ranking. Then, he updates and displays those rankings on TennisRankings.org, a website he founded and manages.
"I rank kids by UTR based on graduation class, so college coaches can use my website and don't have to manually look up everyone's UTR," Alex told student newspaper Lamar Life.
He learned to love the game when he was young. His father taught him tennis when he was in grammar school.
Alex will follow in his mother's footsteps and attend Brown University, an Ivy League school in Providence, Rhode Island. He'll play tennis and expects to major in applied math or statistics.
"I've always been very STEM heavy, and math has interested me," he said.
Lauren heads back to California in the fall. She'll be attending Stanford University.
"I'm more humanities-based," she said.
She expects to major in Philosophy and possibly attend law school after earning her bachelor's degree.
This fall will be the first time the twins have lived apart.
"It's going to be different because we haven't been separated for any length of time," Alex said. "The adjustment period will be hard, but as time goes on, we'll meet new people and make new friends."
They admit to being competitive but say competition has made them better and closer.
"I don't think either of us would be where we are without the other," Lauren said.
"I consider her my best friend," Alex said. "Thank God we both have phones."