Laura A. Gonzalez has been selected as the new principal of Crespo Elementary School.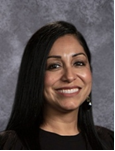 Gonzalez most recently served as assistant principal and interim principal at Rucker Elementary School. Previously, she served as associate principal at International Leadership of Texas Windmill Lakes K-8. Gonzalez led the instructional program to improve from an F to a C. She began her educational career as a Kindergarten Dual Language teacher in McAllen ISD and later transitioned to HISD as a second and third grade bilingual teacher at Lewis and Cornelius Elementary Schools where she was a lead teacher, mentor of beginning teachers, teacher coach, and Teacher of the Year.
Gonzalez earned a bachelor's degree in Interdisciplinary Studies with a minor in Bilingual Education from the University of Texas-Pan American and a master's degree in Educational Administration from the University of Houston Clear Lake.