No soil to farm? No problem. A group of HISD employees learned how to grow plants in water during a crash course at the Dream Harvest Farming Company.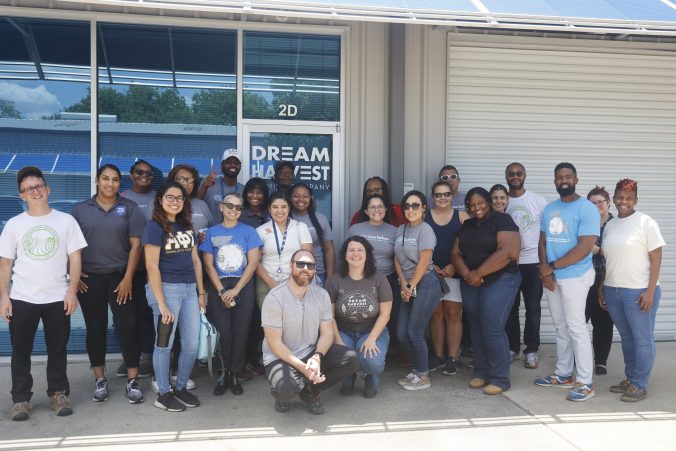 Dream Harvest is a Houston-based company that specializes in growing leafy green vegetables using a technique called hydroponics. It is a type of indoor farming that skips the soil, allows seeds to root in tiny pods, and grows the crops in nutrient-rich water.
Dream Harvest's goal of sustainable farming and feeding the local community parallels that of Nutrition Services' Food and Agriculture Literacy Center at Mykawa Farm. Mykawa is devoted to teaching students about the importance of nutritious food with an emphasis on science, technology, engineering, arts, agriculture, and math (STEAAM).
"Educational experiences like this are important so that we can introduce students to different types of careers that are emerging in the agriculture industry and to show them how STEM connects to agriculture in different ways," said Marcus Glenn, Area Manager of Nutrition and Agriculture with Nutrition Services, who organized the trip to Dream Harvest.
Inside the two warehouse grow rooms, lettuce, and herbs grow at various stages on shelves that nearly touch the ceiling. To keep the nutrient solution tubs clean, the hydroponic system operates on a flood system. The tubs flood and drain constantly while using only five percent of the water a traditional farm would require.
Dream Harvest's growing model is unique, utilizing vertical warehouse shelving to maximize space and mitigate waste, and their technically minded staff is constantly working to improve their already carbon-negative process. Hydroponic farms like Dream Harvest occupy a unique niche in the agriculture industry, one that HISD's Career Readiness staff was glad to see firsthand.
"It's about really getting out there and getting the resources that our students need," said Career Advisor Specialist, Janki Joshi. "A lot of our students don't have any idea of what kinds of careers they can walk into and how to connect one industry to another. The most important thing is getting them that information and allowing them to utilize the skills that they're learning in the classroom and figuring out where they can apply it outside of the classroom."
With first-hand knowledge from Dream Harvest, HISD's Nutrition and Career Readiness teams now have the context to advise interested students toward careers in sustainable farming with hydroponics.