The HISD Multilingual Programs Department is proud to host the district's first ever Multicultural Day. This event was conceived of by Law Elementary fifth-grader Kadence Smith, winner of the 2023 Martin Luther King Jr. Oratory Speech Competition.
Inspired by the diversity of the largest school district in Texas, Multicultural Day will celebrate the traditions, experiences, and beliefs of the different cultures represented in HISD through the eyes of younger generations. Students will represent their cultures with various presentations ranging from booth displays to fashion shows and dance performances.
"The event will provide an excellent opportunity to celebrate the different cultures and backgrounds of our students, staff, and families," said Gisele Rosas, Multilingual Programs Senior Manager. "We are excited to bring together communities to celebrate and learn from each other as we move one step closer to multiculturalism."
The Multicultural Day celebration will take place at Wisdom High School (6529 Beverly Hill Street, 77057) on May 20, from 9 a.m. to 12 p.m. All students are invited to participate.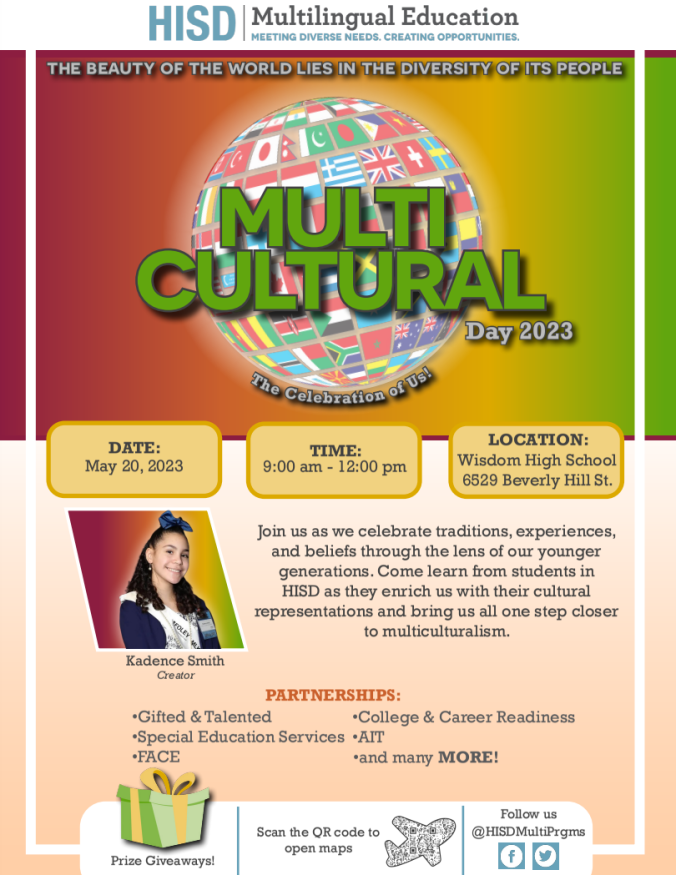 To register for participation in the Multicultural Day festivities, visit the registration website.