Since joining HISD in 2022, Ronald Castro has dedicated his spare time to leading high school students while working with local nonprofits and elected officials to ignite positive change through humanitarian and volunteer efforts.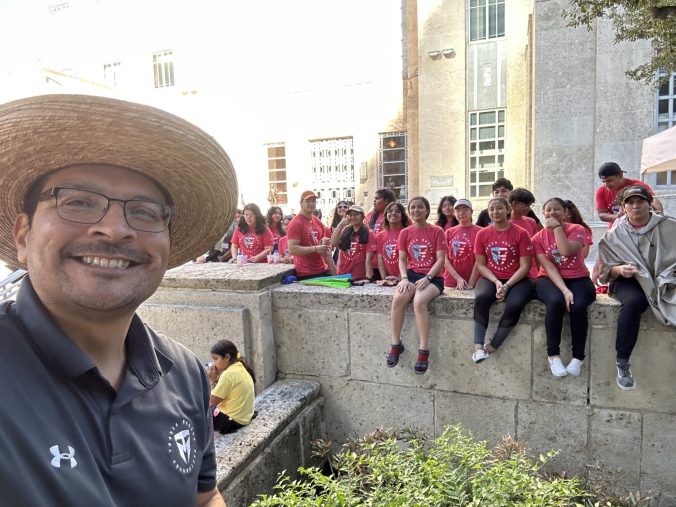 Castro, a U.S. Navy veteran, teaches social studies at Eastwood Academy High School and oversees the Humanitarian Society, an organization he created last year to provide philanthropic opportunities to students who have a passion for helping others and giving back to the community.
"I feel it's important for our students to know the values of our community," said Castro. "I left the Navy years ago, and here I am still committing to the service that's asked of my community. There are a lot of nonprofits doing great work in the city, and I want to give the kids access to them."
In just one year since the program's inception, Castro and his students have volunteered more than 8,000 hours collectively at community events including neighborhood cleanups, Aztec Dancers at Eastwood Park, Veteran Stand Down at Emancipation Park, and the annual Heroes Run in downtown Houston.
The Humanitarian Society's volunteer initiatives also extend beyond Houston city limits. The group is gearing up for its inaugural beach cleanup event in Galveston on Saturday, Sept. 23.
"I think it's great to get out and give back to your community when you can," said junior and Humanitarian Society President Sabrina Cruz. "We have so many things coming up this year, so I'm super excited, and I love working with Mr. Castro because he's so passionate and it inspires us to help others."
In their unwavering commitment to making a positive impact, Castro and the Humanitarian Society continue to inspire others, showing that with determination and compassion, they can truly make a difference in the community.
To learn more about Eastwood Academy High School's Humanitarian Society, click here.