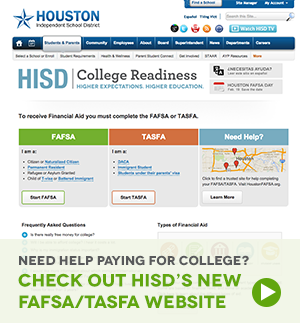 February is full of free events to help HISD families
Navigating the college application process and finding financial aid to pay for higher education can be somewhat daunting for both students and parents, but HISD and various community partners are here to help throughout the entire month of February.
Mark your calendars, and check below for a list of FREE fairs, expos, and events that are open to middle- and high-school parents.
---
NACAC College Fair, Feb. 12, NRG Center, 6-8 p.m.
Free and open to the public, the fair allows students and their parents to interact with admission representatives from a wide range of postsecondary institutions.
Houston Hispanic Forum Career and Education Day, Feb. 14, Brown Convention Center, 9 a.m. – 3 p.m.
The one-day event gives students from grades 6 through 12, their parents, guardians, teachers, and counselors an opportunity to learn about rewarding careers, the college application process, how to pay for higher education, and much more.
Aprendamos Juntos, Feb. 15, Unimas 67, 6:30-7 a.m.
Spanish-speaking parents and students can tune in to Unimas 67 to watch the half-hour television program "Aprendamos Juntos: Prepárate para la universidad" and learn more about applying for free financial aid for college.
FAFSA/TAFSA Phone Bank, Feb. 18, Univision 45, 5-7 p.m.
Spanish-speaking parents and students can call in their questions about the Free Application for Federal Student Aid (FAFSA) and the Texas Application for State Financial Aid (TAFSA) to a phone bank of volunteers at Univision 45.
HISD FAFSA Day, Feb. 19, HISD high schools, contact your campus for event time
Students and their families are invited to fill out and complete the Free Application for Federal Student Aid (FAFSA) after school alongside district representatives who will assist in the process to ensure accuracy and help prevent errors.
Black College Expo, Feb. 28, JW Marriott Houston, 10 a.m. – 5 p.m.
Middle- and high-school students and parents can interact with universities and scholarship providers, and even receive college acceptances and scholarships on the spot. HISD has partnered with the National College Resources Foundation to offer free admission and transportation (limited) to the expo. Check with your school for more information.