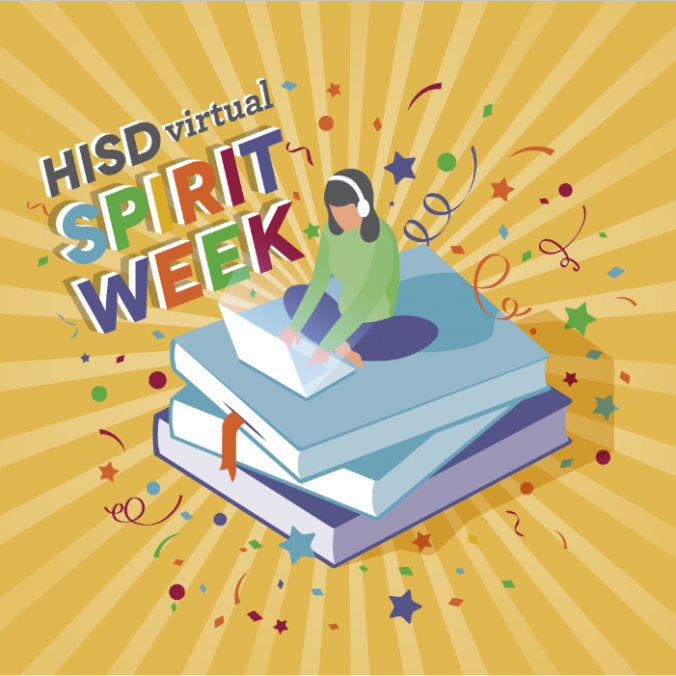 HISD students, parents, teachers, and principals: Are you ready for a fun challenge to showcase distance learning?
As everyone adjusts to the new reality of online instruction, HISD has designated next week (April 13—April 17) as Virtual Spirit Week. Each day will be designated with a different theme to encourage students to share their at-home learning activities. In fact, everyone is invited to participate in the daily challenge—students, teachers, and even administrators.
As you participate each day, take photos or short videos and share them on social media using the hashtag #HISDSpiritWeek. The idea is to flood social media with positive learning activities and create a sense of community, school spirit, and inclusivity.
Monday, April 13: Move-it Monday
It's important to keep moving while staying home. It could be dancing, yoga, walking or running or participating in a virtual fitness class. What's your P.E. routine? Share a photo or short video of your activity.
Tuesday, April 14: Career Day
Think about your future and picture yourself in your dream job. Do you want to be an astronaut, a doctor, a teacher or a scientist? Dress up and share a photo of yourself dressed for your career of choice.
Wednesday, April 15: Whatcha Reading Wednesday
What's on your current reading list? Share a photo of your book or a video of yourself reciting a favorite passage.
Thursday, April 16: College Colors Day
No matter your age, it's important to start thinking about college. It could be a college that your brother, sister, parent or teacher attended – or a college you've already been accepted to attend! Dress in the colors of that school or wear a college T-shirt and share your photo.

Friday, April 17: Fine Arts Friday
This is your day to be creative! Draw or paint a picture, sing a song, play an instrument, or read a poem. Share with your fellow students how you are expressing your creativity at home with a photo or short video.
Don't forget to share your photos and videos on social media each day using the hashtag #HISDSpiritWeek, and they will be shared on the district's Twitter, Facebook, and Instagram accounts. Happy Virtual Spirit Week!