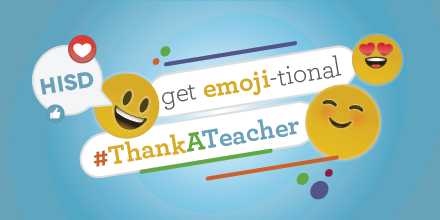 Teacher Appreciation Week is May 4 through 8, and it's a time for our staff, students, parents, and community to recognize our teachers.
For Teacher Appreciation Week, HISD is launching a fun campaign called "Get Emoji-tional" so we can share the love 😍 for our teachers on social media. Each day, share emojis as well as videos, photos and special messages with the hashtag #ThankAnHISDTeacherto show your support for teachers.
Love (❤️) how they encourage you in special ways
Like (👍) what's happening in their classroom
Celebrate (🎉) their achievements with students
HISD teachers are engaging in distance learning due to COVID-19 and helping students successfully transition to a virtual classroom while also managing an armful of new challenges from home.
Let's thank our educators for their service and give them the appreciation they deserve for their invaluable contributions.