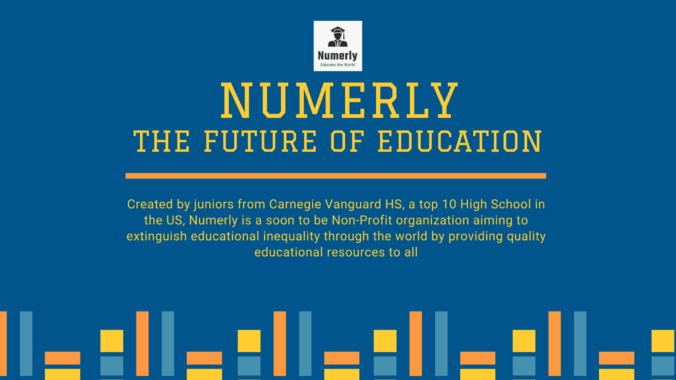 COVID-19 has presented several educational challenges that have exacerbated gaps in student learning, but two Carnegie Vanguard High School students saw it as an opportunity for positive change.
During the pandemic, juniors Aadhav Jai Murugesh and Levi Chen created Numerly, which provides easy-to-access, free tutoring services for students grades 3-8. Numerly's goal is to uplift economically and medically underserved communities by making high-quality math and science education available for free.
"We wanted to do our part to help students succeed, regardless of the circumstances," Murugesh said. "The math and science knowledge kids gain in elementary and middle school is crucial, and a strong foundation ensures that more challenging subjects are attainable in high school,"
Through their program, 350 students were tutored by 20 volunteer tutors. Tutors are instrumental in delivering lessons, contacting parents, and finding key resources for their students. Tutors are vetted through Numerly and come from high schools across HISD.
"Signing up to become a Numerly tutor as a high school student helps to create a more secure and successful future for the kids who need help the most," Chen said. "Acting as a mentor to these younger students can help strengthen their skills in math and science, giving them the supplemental learning they require in order to stay on top of their classwork."
Numerly is actively seeking volunteer tutors. If you are an HISD high school student, and interested, applications are currently open. The deadline is Sunday, December 20.
For more information on tutoring services, visit Numerly.org. If you have questions, contact the Numerly team at numerlyteam@gmail.com.