The sun strained through high, wispy clouds, beaming bright yellow warmth onto the windows of school buses that streamed into the bus terminal, returning from safely transporting students.
At all district locations, HISD Transportation Services is observing National School Bus Safety Week to raise awareness among students, staff, and the community about the importance of school bus safety – inside and outside the school bus.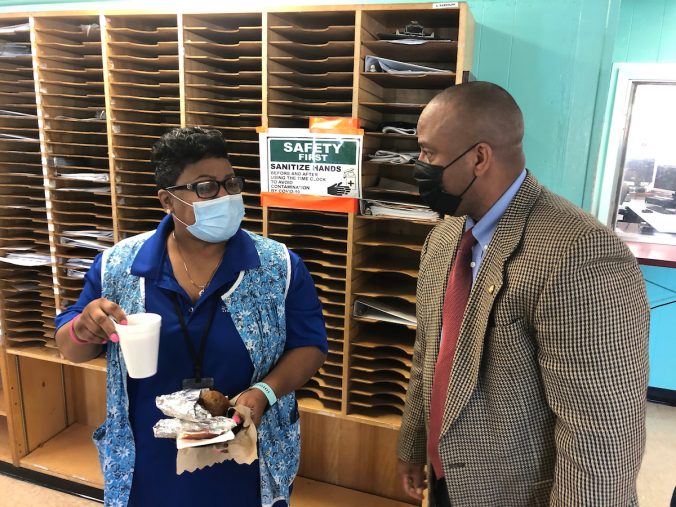 This year's safety theme is "Be Safe – Know the Danger Zone."
"Every week is safety week," Safety Trainer Maria Bernal said. "You have to be alert about street safety, like communicating with other drivers and with students boarding the bus. We also sanitize our buses after every run to prevent the spread of COVID-19."
Visiting the vigilant bus drivers at Barnett Bus Terminal was HISD Superintendent Millard House II. He surprised the staff as they gathered for an appreciation breakfast that included hot coffee, fruit and nut muffins, and breakfast tacos.
"I am excited to celebrate National School Bus Safety Week with our bus drivers," House said. "They go above and beyond each day to ensure the safety of our precious students."
He said that their dedication to student safety and operation excellence makes him proud, especially during the current bus driver shortage.
The Barnett bus terminal safe-return scenario repeats itself daily at each of the other district bus terminals.
Seven-year-veteran HISD school bus driver Anh Nguyen explained that the key to safety starts with a calm group of students.
"I sometimes remind the students to respect each other and the bus as if it were their own vehicle," Nguyen said. "The more they are peaceful, the more I can concentrate on safely getting them to school and back."
New and seasoned bus drivers are trained to be watchful, not just for construction on the road but for student safety issues according to Nguyen.
"Bus drivers can never let down their guard no matter the weather," Bernal said, noting that bus safety awareness is the first step for students to do well in class.
Bus drivers are the first HISD employees most students see each school day according to Bus Operator Sharon Hamilton.
"I have been driving students to school for 32 years, and I love those kids!" Hamilton said.