In observance of National STEM Day on Nov. 8, Space Center Houston welcomed more than 500 HISD students to speak with NASA astronaut Megan McArthur and engage in authentic science learning activities.
Students from Wesley Elementary School, Davila Elementary School, Deady Middle School, Booker T. Washington High School, and Milby High School were all in attendance.
"I feel so privileged to have lived and worked in space as a member of the U.S. astronaut core," said McArthur. "It is so important for me to share my experience with kids who might have their own big dreams of becoming an astronaut one day."
Milby High School Junior Isacc Solis said he was inspired after listening to McArthur speak about her journey to becoming an astronaut.
"This is a very big moment for me," said Solis. "Ever since I was little, I've really liked space and wanted to be an astronaut, so meeting someone who is an astronaut and hearing them talk about their journey will help me with mine."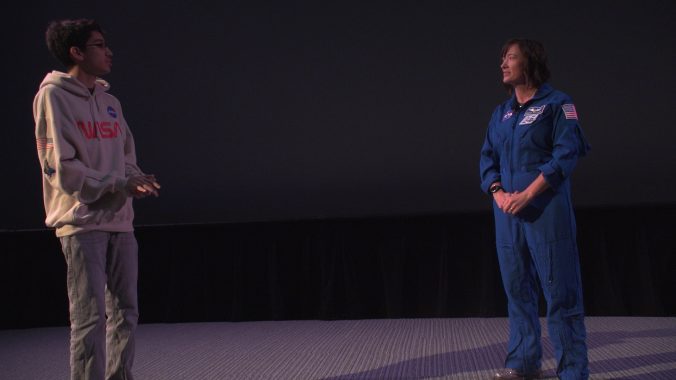 Milby High School Senior Brenda Bonilla said it meant a lot for her to meet a woman astronaut.
"Meeting her gave me a different point of view than what I've seen in textbooks and movies," said Bonilla. "I learned a lot of information and was inspired by her to do better in life."
National STEM Day provides HISD students the opportunity to explore their interests in the fields of science, technology, engineering, math, and in this case—space exploration.
"We have so many jobs available in STEM careers, but we don't have enough people with those skills and qualifications," said Space Center Houston President and CEO William T. Harris. "We really want to encourage every young person to be dedicated in STEM to help pursue its pathway and careers."
Learn more about National STEM Day in HISD here.