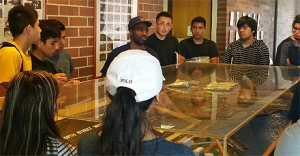 Students from Furr and Chávez high schools tour largest wastewater facility in the city
The source of our water is becoming the source of a career for several HISD graduates. Fifteen students who just graduated from Furr HS and Chávez HS were selected to partake in a three-week class on water maintenance that will result in them gaining Class D water operator licenses as well as eligibility for employment with the City of Houston Public Works Department.
The class is a part of HISD's Linked Learning initiative, which combines academics and hands-on learning to prepare students for real-world experiences and career pathways.