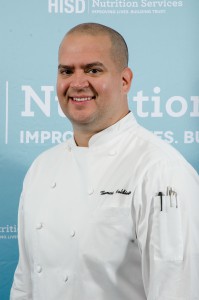 HISD Research and Development Chef Tom Valdivieso has a new appreciation for what he and his fellow chefs do at the district. As a first-time father of a newborn son who will one day attend an HISD school, Valdivieso understands the importance of his role.
"We always cook with students in mind so that we can make sure they get the necessary nutrients to succeed in school," he said. "We are trusted with their well-being."
Valdivieso evaluates the HISD school menu as part of his job to design school meals that are delicious and healthy.
"The goal is always to satisfy students," he said. He accomplishes this by creating recipes, testing them, and tweaking them to perfection.